The Week Ahead: Friday, January 9 through Thursday, January 15, 2015
January 9, 2015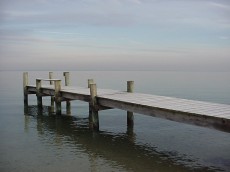 We head into the Week Ahead bundled up to our eyeballs and listening to the limbs of trees crackle in the cold. Though the impulse is to hibernate, there are many activities coming up worth putting on that extra layer for and …good news…the extreme cold is expected to moderate as the week progresses. Enjoy the Week Ahead!
Friday, January 9
Third Annual Mini Golf Extravaganza
Golf at the OB Library's 18-hole, themed, indoor course. Fundraiser features food, beverage, and fun.
2 1+; $18 admission.
Saturday, January 10
Winter Walks at Polly Hill Arboretum
Bundle up and explore the winter landscape as gorgeous bark patterns and architectural structure emerge throughout the Arboretum grounds. .
Saturday (evening) & Sunday (matinee), January 10 & 11
Shakespeare for the Masses Presents Richard III
Martha's Vineyard Playhouse hosts this 'quick, painless and free' staged reading of Richard III.  General seating, no advance reservations.
Tuesday, January 13
Demaris Wehr: Making it Through
Demaris Wehr, PhD will speak on the topic of her new book, Making it Through: Bosnian Survivors Telling Stories of Truth at the Vineyard Haven Public Library
Wednesday, January 14
1960s Film Series: 2001 – A Space Odyssey (1968)
In conjunction with the MV Museum's ongoing exhibit Sea Change: MV in the 1960s, the MV Film Center presents the next installment in the 1960s film series. A classic of the genre.
Thursday, January 15
Dan Waters Staff Tour
Join Development Director Dan Waters, and tour the current exhibits on display at the Museum. Dan will reveal his favorite objects in the exhibits. Refreshments served.