The Week Ahead: Friday, February 13 through Thursday, February 19, 2015
February 13, 2015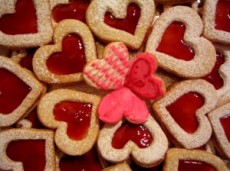 A three-day weekend, Valentine's Day and Mardi Gras make for a busy week ahead! Warm up with a Winter Cabaret, baby lambs at The FARM Institute and time spent with the one you love. Though there's still lots of winter going on here on Martha's Vineyard this week will make it seem all the cozier!

Thursday – Sunday, February 12-15
Valentines Day Lovely Opening
Night Heron Gallery celebrates love and Valentine's Day with a special opening event and exhibit.
Saturday, February 14
Wicked Good Winter Cabaret at the Martha's Vineyard Playhouse
Wicked Good Winter Cabaret presents "Love & Valentines" with Musical Director – Molly Conole and Accompanist – Peter Boak. Performers include Molly Conole, Shelagh Hackett, Paul Munafo, Ken Romero.
Check out what Island restaurants have on offer for Valentine's Day dining>
Sunday, February 15
Opening Reception : 'I Love Ewe' : The Year of the Sheep Show
Join us for the Opening Reception of the I Love Ewe: The Year of the Sheep Show at Featherstone Center for the Arts. Show continues through March.
Monday, February 16
Valentine's Tea
Join us for Valentine's Tea on Monday, February 16th at 2 pm. Traditional British Afternoon Tea Sweets & Sandwiches. Live Music, Friendly Conversation
Tuesday, February 17
Annual Mardi Gras Pancake Supper & Party
The West Tisbury Congregational Church is hosting its fifth annual Mardi Gras pancake supper and party, complete with masks, beads and coins.
Offshore Ale Co. and The Ritz both host Mardi Gras celebrations on this Fat Tuesday. At Offshore you'll find a Cajun-inspired menu and live music from 5 pm to 9 pm. The Ritz offers a New Orleans style masquerade ball; entertainment by Mike Benjamin and the Mardi Gras Mumbo Band. Special cocktail offerings and gumbo too.

Wednesday, February 18
Katama's Little Bo Sheep
Join the FARM Institute in welcoming their newest lamb arrivals! Visiting times will be on Saturdays and Wednesdays from 2:45-3:30.
Thursday, February 19
Island Moon Coffeehouse at the Martha's Vineyard Playhouse
An evening of music at the Island Moon Coffeehouse, hosted by Jemima James  featuring Rose Guerin, Geordie Gude, Stu Gardner, Shawn Barber and others.