Island Time, March 5-8: Spring Ahead!
March 5, 2020
We set our clocks ahead this weekend and the equinox is less than two weeks away. But on Martha's Vineyard, spring is already stirring. Crocus and daffodil buds are peeking out of the soil, the red-winged blackbirds are back and all the songbirds are making music in the trees. Humans, too, are making music, along with dance, food and other Island experiences. You can find everything that's happening in the Complete Martha's Vineyard Calendar—here are some highlights:
Friday, March 6 | Music, dance & bowling
Mike Benjamin plays during dinner at the Newes from America in Edgartown, starting at 7 p.m.
Also at 7 p.m., Pathways in Chilmark presents an evening of dance on film and live in performance, followed by DJ dancing for all.
Gold Pin Bowling starts at 9 p.m. at the Barn Bowl & Bistro in Oak Bluffs.
The Martha's Vineyard Film Center in Vineyard Haven screens Knives Out at 7:30 p.m.
Saturday, March 7 | Pig out and jam
It's Cinnamon Bun Saturday at the Grey Barn (9 a.m. to 11 a.m.), and today, lambs will also be around for you and the kids to pet — hurrah!
The YMCA in Oak Bluffs hosts its annual Live Love Tri indoor triathlon today from 8 a.m. to noon.
At 1 p.m., the Chappaquiddick Community Center holds a special screening of To Keep the Light, in honor of Women's History Month.
The Offshore Ale Company in Oak Bluffs has a Noman's Pop-Up Pig Roast with guest chef Austin Racine starting at 5 p.m.,
This month's Chilmark Potluck Jam starts at 6:30 p.m. at the Chilmark Community Center.
A lip sync contest at the Portuguese-American Club in Oak Bluffs benefits Martha's Vineyard Friends of Family Planning.
Edgartown Cinemas has Parasite at 6:45 p.m.
Sunday, March 8 | Spring ahead
Daylight saving time starts when 2 a.m. becomes 3 a.m. this morning.
From noon to 2 p.m. on Chappaquiddick, a special Cape Pogue tour highlights Women of the Light.
The West Tisbury Library holds a reception for its latest group show, Light, from 1:30 p.m. to 3 p.m.
The Film Center screens A Hidden Life at 7:30 p.m.
Photo by Tim Johnson.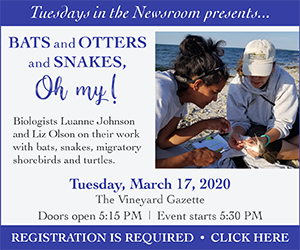 Mar 5 7pm – Mar 19

Acting 101 for Adults
Mar 7 10am

St. Patrick's Day Corned Beef & Pastrami Workshop
Mar 7 3:30pm

Artist Reception: Beth Parker
Mar 7 5pm

Artist's Reception: VIP on Land & Sea
Mar 8 1pm – May 10

Fiber Folks
Mar 14 10am

Winter Arboretum Walk