A Season of Giving and Celebration
November 21, 2019
As the Island embarks on its annual round of holiday activities and lights sparkle in parks, shop windows, and winter's recently bared branches, our thoughts turn to bringing life to the spirit of this season of giving and hospitality.
Whether you are familiar with the Island or are just dropping over to enjoy an Island holiday, we think you'll find that the Vineyard is rich in tradition and exciting to experience during this special time of year. See what Island merchants have to offer to enhance the spirit, feasts and fun of the holiday season!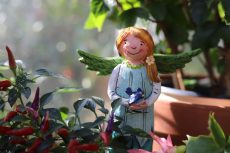 In town for Christmas in Edgartown? Be sure to visit Donaroma's not only for gift shopping, but to experience the twinkling lights, the festive decorations, and  "Donaroma's Joy to the World" event from 5 p.m. to 7 p.m. on Friday and Saturday evenings. Also, don't miss the Teddy Bear Suite, one of many charitable events that helps Christmas in Edgartown raise over $50,000 for island-wide charities and non-profits.
While you're walking around Edgartown, you'll want to make a stop in at The Newes at The Kelley House for a cozy and delicious pub meal. Better yet, make The Kelley House your holiday headquarters by booking a room in this centrally located historic hotel with a variety of well-appointed rooms. Conveniently, you've got the new Myx Market right in the hotel, too, for healthy snacks, convenience items, and Starbucks coffee.
A stroll around Edgartown isn't complete without a stop in Murdick's Fudge on North Water Street to see how fudge is made and to pick up a few boxes — as gifts, of course. Gift shopping continues in the very best way at Island artist Stefanie Wolf's jewelry studio on North Water Street.
Further afield are two great destinations for holiday shopping where you'll find a huge selection of locally made artisan crafts. Featherstone Center for the Arts presents its Annual Holiday Gift Show through December 15, daily from noon to 4 p.m.  Fifty percent of sales from arts, crafts, jewelry, knitwear, clothing and gear, soaps, dog goods, ornaments, cards, calendars and stocking-stuffers benefit the art center while benefitting the artists, too. The Vineyard Artisan Festivals will take place twice this holiday season, Thanksgiving weekend at the Ag Hall in West Tisbury, Friday, November 29, and Saturday, November 30, from 10 a.m. to 4 p.m. The Holiday festival will take place at the Grange Hall in West Tisbury on Saturday, December 21, from 10 a.m. to 4 p.m.
Back in Oak Bluffs, pay a visit to Laughing Bear, a clothing store with unique and beautiful women's wear and accessories. What's more fun than giving a gift of pure luxury? (And it's not too soon to shop for New Year's Eve.) Be sure to stop in Tony's Market for a great selection of beers, wines and holiday spirits.
Next, on your way into Vineyard Haven, you'll definitely want to dial in some time at the spectacular new Martha's Vineyard Museum. Enjoy the interactive exhibits, see the famous Fresnel lighthouse lens, and shop the gift store for books, art and more. Then make a stop at Tisbury marketplace where Tisbury Toy Box has a wonderland of puzzles, plush toys, creative play, games and just plain fun items that could fill Santa's entire workshop.
On Main Street in Vineyard Haven, visit the The Green Room to check out the warm and stylish clothing for an Island (or any) winter from brands including Patagonia, North Face and Barbour. At Rainy Day you'll have a hard time choosing between the delightful holiday items, fanciful kid's clothing and toys, home goods, and fashion gear.
As one year ends and a new one is about to begin, it's a perfect time to line up improvements for your home. Check in with Rick Convery Painting and give your home a bright new look for 2020. Need more that a paint job? Give Chatham Refinishing Company a call well ahead of the new season.
In the meanwhile, you'll want to transform your home for the holidays.  For all the essentials, visit Shirley's Hardware. The shelves are filled with everything you need,  from holiday lights to ribbons and bows, from batteries and extension cords to turkey basters and oven thermometers.
It may be the a gift certificate is the best way for you to go this year. Shop the Steamship Authority's online Holiday Gift Store or treat someone to a facial or other winter boost by purchasing a gift certificate from Island Aesthetics.
To find even more exciting information on the Island's holiday festivities, shopping locally and exclusive discount coupons from our advertisers, be sure to browse The Vine's Holiday Gift Guide issue  and the Vineyard Gazette's Holiday Catalog, both available at all Vineyard Gazette vendor outlets.
Have a warm and peaceful holiday!
Featured image by Mark Lovewell. Additional images, Susie Middleton.