November 7 – 10: Over the Moon and Stars
November 7, 2019
By day we are madly soaking up any rays of sun we can. Trips to Lucy for a walk on the beach. A stop at Chilmark Chocolates to stock up. Landing by the fire at the winter farmers' market, and gathering our circle of friends in tight to bolster our winter-readiness. The early sunsets (4:30 p.m.) have been shocking; they never fail to bring on relentless second-guessing of how one has spent the long days, now that they are past for the year. The silver lining is the cookie-cutter crescent moon and twinkling stars in the early evening sky.
This weekend we will do the kind of thing we do best in the off-season: Come out to support each other. A musical benefit for Sabrina Luening, a well-known singer who was airlifted to Boston two weeks ago after suffering a stroke, will be held at The Cardboard Box on Saturday night. Doors will open at 4 p.m. There are many more ways to join the circle this weekend. Read on for our suggestions, and visit the complete Vineyard Gazette calendar for more.
Friday,  November 8  |  To the Lighthouse
Halloween is over, but that doesn't mean we can't be spooked — in the theater. "The Lighthouse," the new film starring Willem Dafoe and Robert Pattinson is "a hypnotic and hallucinatory tale of two lighthouse keepers on a remote and mysterious New England island in the 1890s." If the trailer is any indication, we'll be looking over our shoulders on the drive home from the MV Film Center. The film begins at 7:30 p.m.
For a cheerier evening, join the Animal Shelter of Martha's Vineyard folks at the PA Club for "A Celebration of 1000 Loves, Lives and Tails" with live music from Maggie's Kitchen (5:30 p.m. to 8:30 p.m.) Or take in Island Theater Company's musical review of the songs of Fiddler on the Roof, tonight at 7:30 p.m. at the Unitarian Universalist Society (repeat performances Saturday and Sunday).  You could also head for the MV Playhouse, where the Winter Yard performs an evening of short plays called Pang! starting at 7 p.m.
Saturday, November 9  |  Workshop It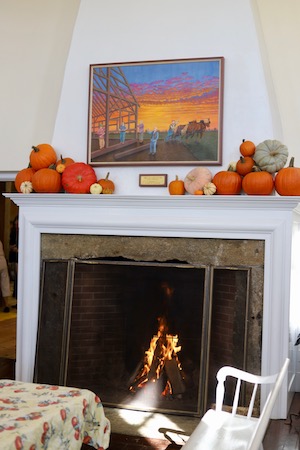 West Tisbury is the place to be this morning with a fall walk scheduled at the Arboretum (9 a.m.), the winter farmers' market at the ag hall from 10 a.m. to 1 p.m., and Duck Day at Long Point Wildlife Refuge from 10 a.m. to 1 p.m. Later on, pick from two opportunities to make floral decorations with the talented Morrice Florist folks: A Fall Wreath Workshop begins at the Carnegie at 1 p.m.; a Thanksgiving Tablescape class – that includes cooking three Thanksgiving sides – runs from 4 to 6 p.m at the FARM Institute.
Tonight there's a Harvest Dinner starting at 5 p.m. at the First Baptist Church in Vineyard Haven; have a bite before heading to Oak Bluffs for the Sabrina Leuning benefit. More scary movies tonight: Stephen King's Doctor Sleep and Terminator: Dark Fate are on the screen at Edgartown Cinemas.
Sunday, November 10  |  Sundays are the Best Days
Something for everyone today: An artisan fair at the Hebrew Center (10 a.m. to 3 p.m.), a VCS winter walk through the State Forest (10 a.m.), The Polar Express at the MV Film Center at 1 p.m., Fiber Folks at the Ag Hall at 1 p.m., and Second Sunday Jazz at the West Tisbury Library at 3:30 p.m. Wind up the day with the Holy Rock + Roll Revival at the Ritz at 7:30 p.m.
Nov 9 9:10am

Learn to Skate
Nov 9 10am

Cookies for Kids' Cancer Bake Sale
Nov 10 11am

Red Stocking Fund Drive
Nov 10 1pm – Nov 24

Open Writing Hours
Nov 12 6pm

Talk: Presidential Power and the Impeachment Inquiry
Nov 16 8:30am – Jun 13

Permaculture Through the Seasons
FOR A COMPLETE LIST OF EVENTS, VISIT OUR CALENDAR
To get Island Time in your inbox every Thursday morning, subscribe here.