Live Music, a Movie, Coffee with a View: Lots to Do at New Martha's Vineyard Museum
April 24, 2019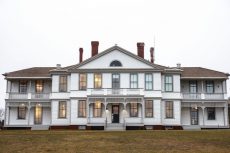 Visiting the Martha's Vineyard Museum is for more than rainy days. After relocating from Edgartown to the old Marine Hospital in Vineyard Haven earlier this year, the museum has been spreading its wings in the new, larger space which includes a year-round café with a hilltop view of Lagoon Pond and a spectacular centerpiece you'll find nowhere else on the Vineyard: the fully-restored Fresnel lens from the Gay Head Light.
To celebrate the inaugural exhibition Our Own Beat: 200 Years of Island Music, the museum has scheduled a series of special events over the next few weeks—part of an intriguing schedule of talks and gatherings that is bound to grow busier and more interesting as 2019 progresses.
April 30 at 6 p.m., the Black Brook Singers—the tribal drum of the Aquinnah Wampanoag, led by Durwood Vanderhoop—perform new and traditional songs in a tradition that extends far deeper than 200 years into the past. Following their performance, the museum screens the 2017 documentary Rumble: The Indians Who Rocked the World, which traces the often-unacknowledged influence of Native American rock musicians including Link Wray, John Trudell and Robbie Robertson of the Band. Admission is $10 for museum members (annual memberships start at $55 for an individual), $15 for non-members.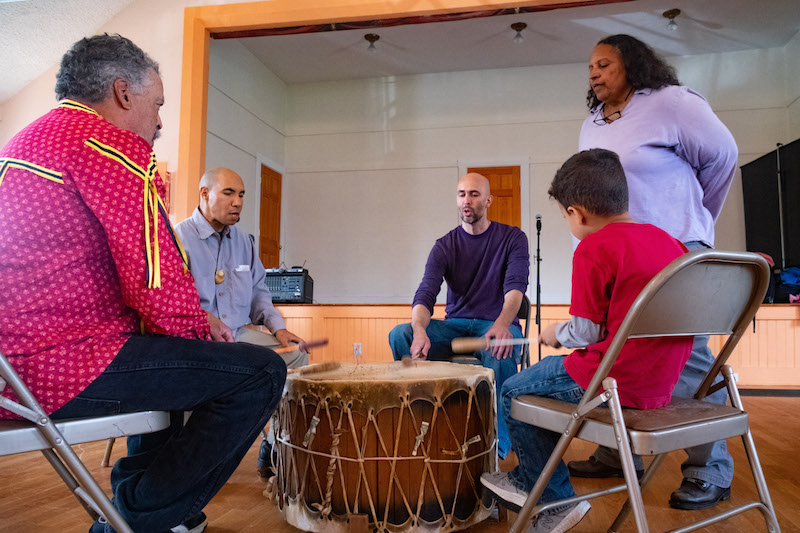 May 11 from 10 a.m. to 11:30 a.m., Tom Dresser's book Music on Martha's Vineyard is the topic of the museum's monthly non-fiction book club, hosted by MVM research librarian Bow Van Riper. Members are free, non-members are welcome for $5.
The museum is also hosting its latest PechaKucha Night May 3 at 7 p.m. Anyone can create a PechaKucha—the only requirement is 20 images shown for 20 seconds each. all Anna at 508-627-4441 x114 or e-mail [email protected] if you are interested in presenting. The event is free and open to all.
All it takes to visit the 1895 building, which was expanded in the 1930s, is a membership and/or admission fee. But until April 1, 1952, entering its doors involved something very different:
"By day and by night, this quiet, pleasing looking building on the hilltop is the scene of many a conflict with death, wherein the grim destroyer is usually defeated, and the array of instruments and equipment installed there is well worth while, as many a man can testify after having been brought to port aboard a Coast Guard cutter that leaped and plunged through a wild sea for hours on her way in as she battled a gale, and who has been lowered, wrapped and lashed to a cot, into a waiting small-boat and finally landed in the hospital where calm efficiency has taken charge and skillfully treated crushed limbs of serious illness." —
Vineyard Gazette, June 3, 1938
.
Later, the building was used by a summer day camp for the children of working Island families. The hilltop site itself has a history of
human occupation going back thousands of years
, and some of the artifacts discovered there are now part of the museum's collection.
The new museum is located at 151 Lagoon Pond Road, Vineyard Haven and includes 14 exhibition spaces, a classroom and program room, research library and gift shop as well as the café. It is open year-round Tuesday through Sunday with extended evening hours on Tuesdays: Until March 24, hours are 10 a.m. to 4 p.m. and until 8 p.m. on Tuesdays.

Top photo, Tim Johnson, middle and lower photos by Mark Alan Lovewell