Island Time, April 11-13: Back on the Horse
April 11, 2019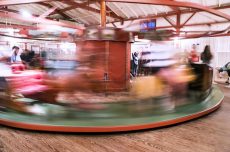 There's a bodacious display of Easter candy at Alley's General Store. Flying Horses Carousel is opening on Saturday, April 13 (early this year!), with free lollipops for kids (11 a.m. to 4 p.m.). Grown-ups will be happy to know that Red Cat Kitchen reopened for the season in Oak Bluffs last week, Mocha Motts in Oak Bluffs is also open again, and the Atlantic reopened in Edgartown last week. And if that's all not delicious enough, you can also order an 850-gram Belgian chocolate gourmet egg (with your choice of fillings) from Sweet Bites in Vineyard Haven.
Now if your teeth aren't hurting too much, you can look forward to plenty of non-caloric (or calorie-burning) activities on the Island this weekend.
Friday, April 12  |   Curry Favor
PathwaysArts shows the last of its Ocean-themed film shorts tonight from 7 p.m. to 9 p.m. The Wicked Good Musical Revue returns to the Playhouse tonight and tomorrow night at 7 p.m. And theater lovers won't want to miss tonight's live broadcast of the National Theatre's performance of All About Eve, starring Gillian Anderson and Lily James, at the Martha's Vineyard Film Center starting at 7:30 p.m. (Doors open one half hour before showtime.)
Edgartown Diner is hosting a Caribbean-themed evening tonight, with dishes like jerk chicken, jerk pork, and curry goat on the menu from 6 p.m. to 9:30 p.m., followed by a DJ and entertainment from 10 p.m. to 12:30 a.m.
Saturday, April 13  |  Rain or shine
Start the day outside by volunteering in the Friendship Garden at the FARM Institute (9 a.m. to noon). Or head to Vineyard Gardens in West Tisbury for a Vegetable Garden workshop from 11 a.m. to noon. There's also a mushroom cultivation workshop at Polly Hill Arboretum with horticulturist Oliver Osnoss today from 10 a.m. to 2 p.m.
Rainy Day in Vineyard Haven is having its annual Egg Hunt for Grown-Ups from 9 a.m. to 11 a.m. this morning. And over at the new Martha's Vineyard Museum, research librarian Bow Van Riper hosts the museum's non-fiction book club meeting this morning at 10 a.m. This month's selection is The Enduring Shore by Paul Schneider.
Tonight, there's a super fun event at the Oak Bluffs library: Membership Down, The Oak Bluffs Public Library Game Show (7:00 p.m to 8:00 p.m). Featuring musical challenges, feats of derring-do and puzzling questions, the show asks three contestants to risk it all for the chance to win dollars for their favorite Island charity.
Sunday, April 14  |   Celebration Services
Join in Palm Sunday services this morning at Grace Episcopal Church in Vineyard Haven, at St. Andrew's Episcopal Church or the Federated Church in Edgartown, or at the West Tisbury Congregational Church. Or learn more about the Passover story at the Unitarian Universalist Society this morning at 11 a.m. (Passover begins next Friday, April 19. Easter is Sunday, April 21.)
The Greenhouse of Martha's Vineyard in Oak Bluffs is hosting an open house from 12:30 to 3 p.m. today. Plants will be for sale.
The last Second Sunday Jazz Concert of the season takes place at the West Tisbury library this afternoon at 3:30 p.m. This concert features Jeremy Berlin, Eric Johnson, and Shelagh Hackett.
Two riveting films are playing at the MV film center today: Diane at 4 p.m., The Wedding Guest at 7:30 p.m.
Monday, April 15 and Tuesday April 16  |  Patriots and Town Fathers
Just a quick reminder that Monday is Patriots' Day, a holiday in Massachusetts. Patriots' Day commemorates the battles of Lexington and Concord, the first in the American Revolutionary War. Since many folks won't be heading to work, the Trustees have organized a Patriots' Day Brickyard Hike (1:00 p.m.) to explore the ruins of the Chilmark Brick & Tile Factory and to hear stories of this once prosperous Island industry. Walkers will also be getting a sneak peek at the newest addition to the Menemsha Hills trail system.
On Tuesday, the very engaging Everett Poole, who's been the moderator of the Chilmark town meeting for 40 years, will be the featured guest at Tuesdays in the Newsroom: Tales from Town Meeting at the Vineyard Gazette offices. Join us at 5:30 p.m. for stories and laughter.
Apr 13 9am

Centered Riding Clinic
Apr 13 10am – Apr 15

Washington Ledesma Annual Shelves Clearance Show
Apr 17 7pm

Concert: John Tibbs
Apr 18 7pm

Poetry Cafe
APR 21 SUNRISE SERVICE | Find Out More
APR 25 – APR 28 SPECTRUM (LGBTQ+) FILM FESTIVAL | Find Out More
MAY 3 OPENING DAY: MORNING GLORY FARM | Find Out More
Want to receive Island Time by email? Sign up for our twice-weekly newsletter and find out what's happening on Martha's Vineyard.
Photos by Tim Johnson