Island Time, March 28-31: Choose Joy
March 28, 2019
We've noticed on our up-Island jaunts that the critters are starting to poke their heads out of the barn. The oxen were grazing on Middle Road yesterday afternoon despite little to graze on. With the long days, hens are laying more, and eggs are plentiful. Baby chicks are arriving at the post office. On Facebook, precocious gardeners are posting photos of tiny seedlings they've started under grow lights or in a hoophouse.
Now we can all stare ardently at the ground in our perennial gardens, waiting for the first peony shoots to come up. Or if we've got asparagus beds, it will be just a few weeks before the first tips break through the soil. Crimson stalks of rhubarb will follow.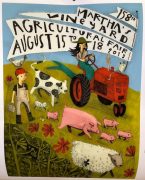 Best of all, on Tuesday the winning poster for the 158th Ag Fair was revealed, and winner Elissa Turnbull's colorful and whimsical illustration is a joyful valentine to the summer event we can now officially anticipate.
This weekend joy takes many forms: music of all kinds, great films, opera, art shows, meditation, pottery, bowling, even dodgeball. An Island-wide dodgeball tournament, no less.
Friday, March 29  |  Art Smarts
Pick your art form — theater, music, or film. Start this afternoon with a great documentary about New York street photographer Gary Winogrand at the M.V. Film Center (4 p.m.). Winogrand used his Leica M4 to snap candid images of everyday people in 1960s and 1970s New York, yet it was only after his untimely death in 1984 that the influence and artistry of his work was celebrated. Garry Winogrand: All Things are Photographable is the first cinematic treatment of his work.
Tonight at the Playhouse, Scott Barrow directs Christopher Roberts in a special one-night only performance of White Rabbit Red Rabbit at 7 p.m. And up at PathwaysArts, David Stanwood will open a fabulous evening of piano music that will also include Paul Thurlow, Peter Halperin, and Griffin McMahon. Three Pianists and the Grand Piano begins at 7 p.m.
Saturday, March 30  |  Let it Glow
Food lovers will want to reserve a spot at Chef Gavin Smith's pop-up dinner at Little House Cafe tonight at 5:30 p.m. The private caterer, also known as The Food Minded Fellow, will cook a three-course tasting menu.
Tonight you can go Glow Bowling. Or do Glow Yoga. Go figure! Glow bowling begins at 9:00 p.m. at Barn, Bowl & Bistro in Oak Bluffs. Glow Yoga for Women is 6:45 p.m. at Eclipse Studio in Vineyard Haven.
Take in a reimagined Romeo and Juliet at Shakespeare for the Masses tonight at the Playhouse (7 p.m.).
And this weekend, it's Dumbo-time at Edgartown Cinemas. The Tim-Burton directed Disney live-action remake shows three times both today and tomorrow.
Sunday, March 31  |  Red Stripe and Reggae
In a tradition that began four years ago, the celebration of Jimmy Cliff's birthday takes place this year at the M.V. Film Center with the American premiere of the 1980 movie Babylon, which screened at Cannes but was deemed too controversial to show in the New York Film Festival that year. "Raw and smoldering," the story of a young reggae DJ features alluring cinematography and an unforgettable soundtrack. Join the celebration, which begins at 6:30 p.m., and enjoy Red Stripe beer and authentic Jamaican bites from Vineyard Caribbean.
If you missed Shakespeare for the Masses yesterday, it's on again this afternoon at 2 p.m. And if you missed David Stanwood Friday night, he's back at Pathways tonight at 7 p.m., this time with many musical friends and three pianos—one cabaret piano and two baby grands.
Mar 29 3:30pm

Financial Aid Workshop
Mar 30 9am

Junior Bird Count
Mar 30 5:30pm

Get Your Purple on for Neil
Apr 6 8am

Health Fair
Want to receive Island Time by email? Sign up for our twice-weekly newsletter and find out what's happening on Martha's Vineyard.