Not Just Books: Martha's Vineyard Libraries Have It All
March 18, 2019
There are six public libraries on Martha's Vineyard, one in each town. Islanders love their libraries and have invested in them over many years, creating bright and comfortable public spaces that are open year-round. Visitors are always welcome and will find much more than books inside.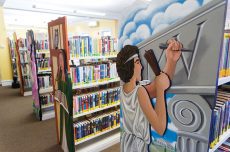 At the Oak Bluffs library, for instance, you can check out a rod and reel to do some fishing, or take a cooking class and learn a new dish. Aquinnah's library offers banjos, an ice cream maker and a metal detector; Edgartown's has ukuleles, guitars and a slow cooker available for check-out. Rounding out the string section, the West Tisbury library has a mandolin.
Feeling the winter blues? Request a Seasonal Affective Disorder lamp or one of 100 board games in Oak Bluffs, which also has a 3-D printer for use on the premises. In Vineyard Haven, you can check out a gummy bear mold or a metal stamping kit. Chilmark has book bags to haul home all the things you've checked out, which could include a bird-watching kit and a star-gazing kit.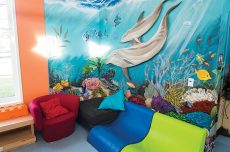 The children's section of each library is a magical place of its own. In Edgartown, the children's room features a floor-to-ceiling mural of world sea life by Martha's Vineyard painter Margot Datz. The West Tisbury children's room is lined with murals by Island artist Linda Carnegie, including all the best-loved characters from Charlotte's Web and other animals from the world of books. There's even an outdoor playhouse behind the West Tisbury library.
Kids of all ages will find activities created just for them, from Lapsit Storytimes for the littlest ones to crafting sessions for teens. Adults can choose from a broad assortment of lectures, concerts, book groups and classes including yoga and modern dance.
Check the Complete Martha's Vineyard Calendar to see what's happening this week at libraries on Martha's Vineyard. This page lists all six with their hours of operation.
To find out what's going on at the library nearest you, visit the website (listed below) or just stop by. The staff will be glad to see you.
Text by Louisa Hufstader; photos by Ray Ewing
classes
concert
kids
library