A Box of Chocolates for a Vineyard Valentine's Day
February 12, 2019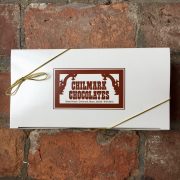 We were all shocked to learn that this will be the last Valentine's Day for Chilmark Chocolates, which is closing its doors after more than 30 years of delighting Islanders and visitors with outstanding handmade chocolates and candies—often with whimsical names like Tulgeywoods and Squibnuggets. Opening at 11:30 Thursday morning, the shop is likely to be busier than ever this holiday—but standing in line will have its sweet reward.
Or you can skip the line and go for candy from Enchanted Chocolates in Oak Bluffs, which has its own whimsical shop and also sells through local retailers. As for flowers, whether you choose a few simple stems or a fancy arrangement, you can't go wrong with blooms from Donaroma in Edgartown or Morrice Florist in Vineyard Haven.
If you don't mind making Valentine's Day a moveable feast, Alchemy restaurant in Edgartown is back from its post-Christmas break, serving dinner Friday, Saturday, Monday and Tuesday from 5:30 p.m. and brunch Sunday from 11 a.m. to 3 p.m.
Other Island restaurants open this month:
Edgartown
• The Harbor View Hotel and its restaurants are under renovation until later this year.
Oak Bluffs
Vineyard Haven
The Black Dog Bakery on Water Street is closed for renovations.
Up-Island
Compiled by Louisa Hufstader
Photos by Susie Middleton
restaurants