16 Chapman Ave, Oak Bluffs, MA 02557
Tel: 508-693-2207



The Ocean View Restaurant and Lounge is an Oak Bluffs year round Martha's Vineyard local tradition. Owned and operated by the Santoro Hospitality Group, offering delicious full dinners with a salad bar in one of the two gracious dining rooms, or enjoy pizza, sandwiches or many of the other signature items on the menu while you're watching your favorite sporting event on the 6 flat screens.  Ocean View Restaurant and Lounge is the Best Value for your Dollar, offering Certified Angus Prime Rib cooked to perfection – "Best on the Island" or our famous succulent local (in season) lobster dish or our juicy Certified Angus Beef Burger cooked to order to name a few!
The Ocean View Restaurant and Lounge are family friendly so bring the whole family. Kids can enjoy our bottomless fresh popcorn next to the cozy fire in the Lounge while the grownups watch their favorite sporting event.
Located at walking distance from Oak Bluffs harbor and the Steamship Authority Terminal is the perfect place if you are coming to visit Martha's Vineyard for the day.   FREE WiFi!
FALL SPECIALS!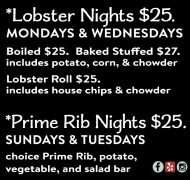 16 Chapman Ave, Oak Bluffs, MA 02557