Island Time, January 31-Feb. 2: Catch a Boat
January 31, 2019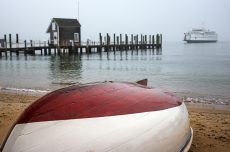 Around here we refer to our ferries as boats. As in, "I'm running late to get to the boat." "I missed the boat." And the always popular "The boats are not running." It doesn't matter if it's the M/V Woods Hole, the M/V Island Home, the M/V Martha's Vineyard or even the M/V Katama or the M/V Sankaty, which are freight boats. The Steamship calls them all vessels. We call them boats.
With one exception: The Chappy ferry, which we call by its vessel's name, the On-Time (as in On-Time III above) or just "the ferry." Calling the Chappy ferry a boat would be a stretch of the definition of a boat, anyway, since technically it is a motorized barge. However, because the Chappy ferry is so reliable, it's not often that we'd have to say that "the [Chappy] boat is running late" or not running at all. Whew.
Now that we've got that worked out, we want you to know that we hope you get on a boat (if you're in what we call America) and come over to visit us this weekend. We realize there's a televised sporting event on Sunday night. Maybe you're hoping to be in your favorite, most comfortable armchair for that. We, er, promise we'll get you home in time (on time?). That is, if the boats are running. Hey, why not live a little? We've got some great live music, films, art, food, and sports events this weekend. And yes, even a Super Bowl party or two. If you miss your boat.
Friday, February 1 | Tune in
Tonight the West Tisbury School Committee is hosting its second annual Zero Waste Night, from 5 p.m. to 7 p.m. Bring a place setting and a mug and enjoy a delicious supper, Chilmark coffee, a collection of inspiring short films, and fun activities for all ages. In Vineyard Haven, Indie-rock Christian band Carrollton makes a stop on their New England tour at the Katharine Cornell theater at 7 p.m.
At the movies tonight, you've got a choice between two Oscar nominated films: Roma (nominated for Best Picture) at the Edgartown Cinema at 6:45 p.m. and Cold War (nominated for Best Director) at the MV Film Center at 7:30 p.m. Later on, live music at the Ritz includes Philly D + The Roundup at 7:30 p.m. and Sabrina at 10 p.m.
Saturday, February 2 | Try, try, again
This morning from 8 a.m. to noon, the LIVE LOVE TRI mini indoor triathlon takes place at the YMCA. Individuals or teams can compete in one, two or all three events, and prizes will be awarded in a variety of categories.
If you're looking for outdoor activities, Sherriff's Meadow plans a guided walk of Cedar Tree Neck Sanctuary at 10 a.m. this morning and Sassafras Earth Education takes it outside today with the youth winter series from 10 a.m. to 4 p.m. Also, Misty Meadows Equine Learning Center is hosting a volunteer training from 2 p.m. to 3:30 p.m.
The Oak Bluffs library offers a kick-off to Black History Month with a musical brunch and talk sponsored by the NAACP, ASALH, and the League of Women Voters. Following a performance of Negro spirituals, there will be a brief history of each organization and a talk by Dr. Walter Collier on Why Racism Persists: An Uncomfortable Truth.
Looking for good food and a party tonight? The Barn, Bowl & Bistro is having a Brazilian Night with authentic Brazilian food and Caipirinhas, music by DJ AP and The Brazilian Connection, and 50 percent off bowling and shoe rental.
Or if you're in the mood for a movie, Can You Ever Forgive Me? and The Mule are playing at Edgartown Cinema tonight; On the Basis of Sex is on screen at the film center.
Sunday, February 3 | Go Pats
The libraries are the place to be today. There's a Sourdough Starter Class at the Vineyard Haven library at 12:30 p.m. Adam Moore and Kristen Fauteux will present a multimedia presentation about the history and landscape of Quansoo Farm at the West Tisbury library at 3:00 p.m.
You can catch a matinee at the film center at 1 p.m. Another Oscar-nominated film, Green Book, is showing. Cold War shows at 4 p.m. There is no evening showing at the film center due to the Super Bowl. Over at the Edgartown Cinema, you can see A Dog's Way Home, Mary Poppins Returns or Roma this afternoon. And if you don't care about the pre-game show, you could also see A Star is Born at 3:30 p.m. (or 6:30 p.m if you're not a football fan).
Super Bowl parties are happening at Sharky's, the Ocean View, and the Ritz.
Tim Johnson photos
More Events:
Jan 31 7:30pm

Performance: Dirt
Feb 7 7:30pm

Joni 75: A Birthday Celebration
Feb 9 7pm

Blues Blizzard
Feb 10 2pm

Wicked Good Musical Revue
Feb 12 6:30pm – Dec 10

NAMI Family Support Group
Feb 23 3pm – May 25

Contemporary Poetry Book Club