Island Time, January 24-27: Winter or Not
January 24, 2019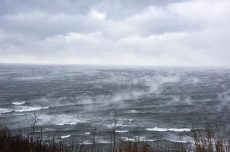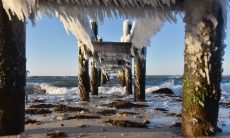 Single-digit weather is nifty. Sea smoke hovers over breaking surf. Icicles the size of dinosaur teeth dangle from docks. But here's the thing: It's hard to do just about anything when the temperature is as low as five degrees and the windspeed as high as 30 mph as it was this past Monday. Even a glassy frozen pond couldn't get us outside. So we're okay with a warm-up. It might rain a little this weekend, but you can bet we'll be out anyway.
Friday, January 25 | Movie night
If you're interested in the state of our oceans, you'll want to check out Pathways' special film collection tonight. Beginning at 7 p.m, they'll show a selection of short films focusing on successful initiatives to save our oceans and the organizations behind them.
Also, the Oscar nominations have been announced; time to catch some of the movies you haven't seen. Regina King has been nominated for Best Supporting Actress for If Beale Street Could Talk, which plays at the MV Film Center tonight at 7:30 p.m. And Roma, nominated for Best Picture and other Oscars, is playing at the Edgartown Cinema tonight at 6:30 p.m.
Saturday, January 26 | In Bloom
We love flowers, and this morning at 11 a.m. we can be surrounded by beauty at Morrice Florist. In the Dutch Flower Class, we'll get to make an arrangement from Dutch flowers and have a portrait taken of it as well.
This afternoon at 4 p.m., the MV Film Center hosts the Peter Luce Play Readers for Glass Mendacity, an entertaining mashup of three Tennessee Williams plays—The Glass Menagerie, A Streetcar Named Desire, and Cat on a Hot Tin Roof.
And tonight's movies include Can You Ever Forgive Me? at the Edgartown Cinema at 6:45. The film captured three Oscar nominations, including a Best Actress nomination for Melissa McCarthy.
If you're not up for a flick but want to support a good cause, head to the Loft for the PTO Silent Auction and fundraiser for Oak Bluffs School.
Sunday, January 27 | Renew and Sustain
Winter Sundays are a good time to explore ways to make living on the Island more energy efficient and environmentally friendly. For instance, the first Climate Cafehappens today at 2 p.m. at Mocha Motts in Vineyard Haven. High school students and Felix Neck folks will lead a caffeine-fueled discussion of renewable energy. And at 3:30 p.m. this afternoon, anyone interested in composting will want to attend West Tisbury Library's workshop, Composting: What to Do with Food Waste During Winter, taught by experts from Morning Glory Farm and Island Grown Initiative.
Film goers have lots of options today, from Opera Club at the Edgartown Library (Verdi's Don Carlo begins at 1 p.m.) to Mary Poppins Returns, Roma, A Dog's Way Home, and Can You Ever Forgive Me at the Edgartown Cinema, and Oscar-nominated Green Book at the film center at 4 p.m.
Top photo by Tim Johnson; middle photos by Jeanna Shepard (left) and Lisa Vanderhoop (right)
FOR A COMPLETE LIST OF EVENTS, VISIT OUR CALENDAR
 Want to receive Island Time by email? Sign up for our twice-weekly newsletter and find out what's happening on Martha's Vineyard.