Holiday Shopping: Pop-Ups, Fairs and Festivals
November 21, 2018
One-of-a-kind, artisan, locally-made gifts — looking for one of these this holiday season? You're in luck. In addition to great shopping in all the down-Island towns this year, there will be more pop-ups, fairs and festivals than ever before. Some shows open soon and last through Christmas, others are one-night events. Grab a friend and support Island artists and businesses.
Keep in mind that you can get your gifts wrapped in special Vineyard Gazette wrapping paper on Friday, December 7, and Friday, December 14, (9 a.m. to 4:30 p.m.) at the Vineyard Gazette office, 34 S. Summer Street in Edgartown.  
Please visit calendar.vineyardgazette.com for more Holiday Happenings.
Island-Made Artisanal Gift Shows
Holiday Gift Show
November 17 to December 16,  noon to 4 p.m. daily
Featherstone Center for the Arts
30 Featherstone Lane, Oak Bluffs
Vineyard Holiday Gift Shop 
November 17 to December 24, 10 a.m. to 6 p.m.
Spring Street, Vineyard Haven
Island Made Holidays
November 23 to December 24, 10 a.m to 6 p.m.
Alley's Farmstand
1045 State Road, West Tisbury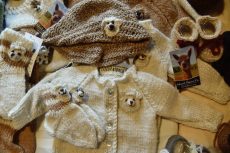 Vineyard Artisans Thanksgiving 
Weekend Festival 
November 23 to 24, 10 a.m. to 4 p.m.
Martha's Vineyard Agricultural Society Hall
35 Panhandle Road, West Tisbury.
Katama General Store Holiday Pop-Up
December 7, 5 p.m. to 9 p.m.
December 8, 9 a.m. to 5 p.m.
170 Katama Road, Edgartown
Arts & Crafts Festival
December 8, 10 a.m. to 4 p.m.
Edgartown School
35 Robinson Road, Edgartown
Handmade From the Heart
December 9, 10 a.m. to 3 p.m.
Dr. Daniel Fisher House
99 Main Street, Edgartown
Vineyard Artisans Holiday Festival 
December 15, 10 a.m. to 4 p.m.
Grange Hall
1067 State Road, West Tisbury
Holiday Greenery Events

Festival of the Wreaths 
November 29, 4 to 6 p.m.
Federated Church,
45 South Summer street, Edgartown.
Christmas Faire
December 1, 9 a.m. to 2 p.m.
West Tisbury Congregational Church,
1051 State Road, West Tisbury
Wreath Making
December 8, 10 a.m. to 4 p.m.
Donaroma's Nursery,
270 Upper Main Street, Edgartown
All photos by Jeanna Shepard