October 25: Old Haunts
October 25, 2018

In case you missed the towering candy display at the grocery store or the alien exhibit at Ghost Island Farm, we're obligated to inform you that All Hallow's Eve (otherwise known as Halloween) is next Wednesday. Consider yourself warned. Now either get in the spirit (lots of help with that this weekend) or draw your shades.
For those of you who can't wait until Wednesday (or who are scared of the dark), there are actual trick-or-treating events during the day in both Oak Bluffs and Edgartown this weekend. Businesses in both towns will be giving out treats to little goblins and mini-superheroes, so if you hang around with the under-13 crowd, maybe you can stash some candy.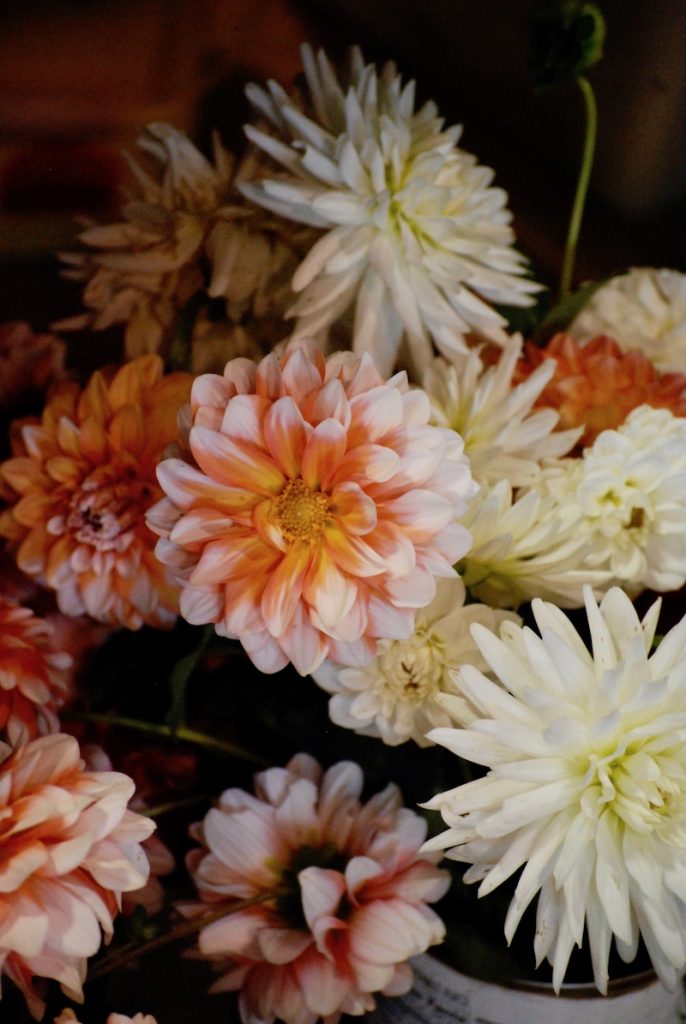 If your tastes run more towards fresh fall veggies and less to Snickers and Butterfingers, you can visit the fall farmers' market this weekend with the family and keep everyone happy: Kids can carve pumpkins and meet a sheep, you can shop for local honey, freshly dug turnips and beets, greens, cheese, sea salt, wool, soaps, fall flowers (right) and more.
And then you can go home and toast pumpkin seeds, make pumpkin soup and sip pumpkin-spiced lattes. Or not.
Friday, October 26 | Spooky
The fun begins this weekend with a Spooky Fun Halloween party at the Edgartown School at 5 p.m. and with a Tarots and Treats event at Not Your Sugar Mama's in Vineyard Haven (5:30 to 7 p.m.).
If you insist on being frightened, you could also head to Edgartown Cinemas for a showing of Venom at 6:15. Or stick with heartbreak and see A Star is Born (at 6 p.m. and 9 p.m. at Edgartown Cinemas). Robert Redford stars in The Old Man with the Gun, on screen at the MV film center at 7:30 p.m. tonight. The Grateful Dread play at The Port Hunter in Edgartown at 10 p.m.
Saturday, October 27 | Warm and Fuzzy
In addition to all the Halloween activities today — including Halloween in Oak Bluffs (10 a.m.) and the Barnyard Boo/Haunted Barn event at the FARM Institute (4 p.m. to 8 p.m.) — there are plenty of excuses to get outside and enjoy the fall weather. While you're at the farmers' market, check out the Fall Fuzzy Horse Show at the Ag Hall from 9 a.m. to 4 p.m. Sign the kids up to become a Junior Ranger (a land and wildlife steward) with the Trustees of Reservations; today's workshop is from 10 a.m. to noon. Or go on one of Robert Culbert's Guided Birding Tours.
Tonight's parties include a Halloween Spooktacular at The Cardboard Box in Oak Bluffs (10 p.m.) and a Halloween Party at the Loft at 10 p.m.
Sunday, October 28 | Treats, No Tricks
Middletown Nursery hosts a Family Fun Day today from 11 a.m. to 4 p.m. Edgartown's Happy Haunting begins at noon, and there's a Halloween Bowling Fundraiser (to benefit Harbor Homes of MV) from noon to 5 p.m. at Barn, Bowl & Bistro.
Take in a matinee this afternoon: First Man shows at 3:45 at the Edgartown Cinemas. A special screening of Being There, a film that shares the stories of four individuals from different cultures providing end-of-life care, shows at the M.V. Film Center at 4 p.m. Colette plays at 7 p.m.
The Holy Rock and Roll Revival is happening at the Ritz tonight at 7 p.m.
Photos: top right, Susie Middleton; bottom left, Tim Johnson

Oct 24 8am – Dec 1
Venison Donation Program & Community Deer Cooler
Thimble Farm (Island Grown Farm)

Oct 24 3:30pm – Jun 28
Tech Help: Computers, eBooks & Social Media

Oct 25 4pm – Dec 16

Oct 27 10am – Dec 1

Oct 27 7pm

Oct 28 4pm
Concert: He and She – Their Lips are Not Sealed!
FOR A COMPLETE LIST OF EVENTS, VISIT OUR CALENDAR
SAVE THE DATE
Nov 17 – Dec 15 Holiday Gift Show | Find Out More
Nov 17 Island Cup: MVRHS vs. Nantucket | Find Out More
Dec 6 – Dec 9 Christmas in Edgartown | Find Out More

Want to receive Island Time by email? Sign up for our twice-weekly newsletter and find out what's happening on Martha's Vineyard.