October 11-18: Reflections
October 11, 2018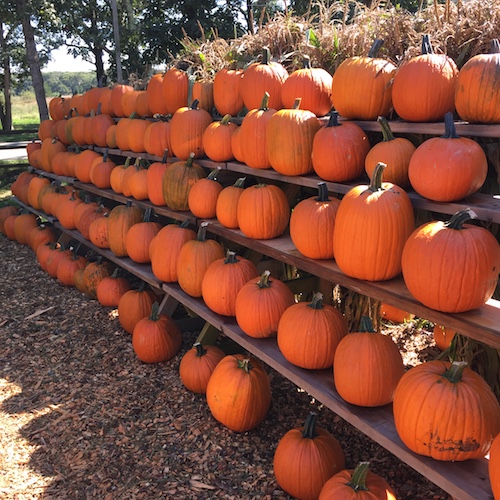 The universe wants us to chill out this weekend — quite literally (the forecast is for much cooler temps) — but also in less obvious ways. The calendar is infused with yoga retreats, nature walks, and activities that inspire us to get cozy, like the first indoor farmers' market of the season. The fire will be roaring and hot soup for sale in the Ag Hall, where friends who haven't seen each other all summer will plunk down on the white ladder-back benches to chat and catch up.
And of course a great spot to meet friends this weekend is Morning Glory Farm's Pumpkin Festival. Nothing could be cheerier (and more comforting) than a sea of orange pumpkins, pumpkin treats to eat, and hay rides with the kids.
And while there are other fun and inspiring ways to relax this weekend (including a special sunset lighthouse tour of Cape Pogue), we know where many of you will be (even if we don't know your exact location!) — fishing, of course. After all, Saturday is the last day of the Derby. See you at the awards on Sunday.
Friday, October 12 | Tea and Company
Begin the weekend with one of two yoga retreats at the Yoga Barn or a talk on meditation and how it connects to your well-being (West Tisbury Library, 7 p.m.). Or simply have Tea With the Dames at the MV Film Center (7:30 p.m.). This entertaining film brings four legends of British stage and screen — Dame Maggie Smith, Dame Judi Dench, Dame Eileen Atkins and Dame Joan Plowright — together for a lively conversation.
If you're looking for a more spirited evening, there's Pickle Ball (7:30 p.m., Airport Fitness), Gold Pin Bowling (9 p.m., Barn, Bowl & Bistro), and live music from the Mike Benjamin Band (Port Hunter, 10 p.m.) and The Phil daRosa Project (10 p.m. at the Ritz).
Saturday, October 13 | Pumpkin Chunkin
We're looking forward to a guided walk through Brookside Ridge Preserve today at 10 a.m. The group will meet at the trailhead for the Land Bank's Tiasquam Valley Reservation on Middle Road and explore the Steve Crampton Trail and other woodlands paths, as well as a magnificent grove of American Beeches.
After that we head to Morning Glory for the Pumpkin Festival (11 a.m. to 3 p.m.). And if the weather takes a turn for the wetter, we might catch a Hitchcock film at the Edgartown Library (3 p.m to 5 p.m.).
Tonight is the first annual Fish Fry fundraiser at Trinity Worship Center in Oak Bluffs (5 p.m.). And the new movie Colette plays at the Edgartown Cinemas at 6:30 p.m.
Sunday, October 14 | Fish and Fiber Folks
Fiber folks are gathering at the Ag Hall at 1 p.m., the Derby Awards happen at Farm Neck at 1 p.m., and opera buffs can head to the Edgartown library at 1 p.m. for a filmed version of Rigoletto.
We're going to support the CROP Hunger walk today, which begins at 2 p.m. at St. Augustine's Church in Vineyard Haven. Funds raised benefit both the Island Food Pantry and global relief organizations.
After the walk, we're heading over to Featherstone at 4 p.m. for the opening reception of The Art of Boat Building at 4 p.m.
And why not take a Ballroom Dancing class tonight at Barn, Bowl & Bistro? Class begins at 7 p.m.

Oct 11 6:30pm – Oct 25
Great American Read Viewing Party

Oct 13 6pm

Oct 14 12pm
Ex Libris: The New York Public Library

Oct 14 1:30pm

SAVE THE DATE
Oct 18 – Oct 21 Martha's Vineyard Food & Wine Festival | Find Out More
Oct 18 Fossil Day | Find Out More
Oct 20 MV Food & Wine Festival: Grand Tasting | Find Out More
Top photo: Jeanna Shepard
Want to receive Island Time by email? Sign up for our twice-weekly newsletter and find out what's happening on Martha's Vineyard.