Shop Main Street, Vineyard Haven
January 1, 2019
Main Street in Vineyard Haven is lined with shops for all tastes and budgets. If you're visiting, be sure to dial in an hour or two to browse the stores, which are all within walking distance of both the ferry terminal and the downtown bus stop.
The newest addition to Main Street, Lennox & Harvey General Goods, is the brainchild of Mark Chung and Eric Coles, who have worked in fashion and retail in Brooklyn and Manhattan for years, always dreaming of a store of their own. Opened this May, Lennox & Harvey carries a curated selection of home goods, clothing, furniture and games.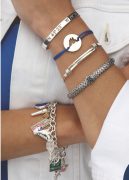 One of the longest running stores on Main Street is C. B. Stark, founded by the late jeweler who opened her store more than 40 years ago. It's still the go-to place for Martha's Vineyard charms and pendants as well as custom work. Another longtime Island business, Claudia, offers fine jewelry from Island artisans and the work of noted designers from the U.S. and abroad. At jeweler-owned Sioux Eagle Designs, you'll find creatively crafted pieces of all kinds, from Island wampum to precious stones and metals.
Stina Sayre Design showcases women's wear with a European sensibility and Vineyard practicality — what Stina calls functional elegance, influenced by her Scandinavian upbringing and Island life. The Green Room features name-brand sportswear, shoes, and accessories for both women and men, as well as skate and surf gear, in a two-story shop. Brickman's is a long-established Vineyard clothing, footwear, sporting goods, and toy store at the south end of Main Street. It's the place to go if you're visiting and have forgotten a rain jacket, a pair of socks, or games for a rainy day.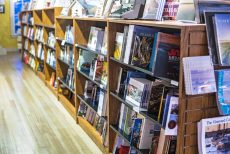 With three sales floors, LeRoux at Home is the Vineyard's top destination for kitchen goods, tableware, small appliances, and accessories for the home, including sheets, towels, lamps and decor items. A two-level companion shop across the street, LeRoux Gourmet, is packed with good things to eat. Need a good book? Bunch of Grapes is the Island's only year-round bookstore. In addition to a great collection of fiction and non-fiction (and a don't-miss kids section upstairs), Bunch of Grapes is also your best source for books about the Vineyard and by Island writers, with a schedule of author events in the summer season.
For gift shopping, fine table linens, dishes, and other home goods, Rainy Day is an Island favorite. Don't miss Refabulous Decor (just a slight dip off Main on Union Street) for painted furniture. At the other end of Main, The Beach House carries April Cornell and Carnegie Blair designs, among many others.
While you're shopping, you've got plenty of lunch options, including The Copper Wok in the Mansion House hotel, La Choza Burritos, Waterside Cafe, Bob's Pizza and Subs, and Mikado Asian Bistro.
Photo top: Mark Chung and Eric Coles, owners of Lennox & Harvey. Photo by Jeanna Shepard.
Photo of Bunch of Grapes bookstore by Tim Johnson.