August 30: You Must Remember This
August 30, 2018
Relief from the heat arrives tomorrow and with it the bittersweet end to the summer. Labor Day weekend is that last long goodbye—to families (cousins and aunts and uncles parting ways until next year), to houses (floors swept of sand, curtains washed, windows shuttered), and to the Island (one last swim, one last lobster roll, one last bonfire). The intermission of summer is over; time, like the movie reel, starts rolling again now that school looms. Nostalgia seeps in to muddle the mix of feelings; no matter how distant school days are for some of us, we all instinctively remember the excitement and trepidation of the start of a new year. And we all begin to anticipate the dramatic changes that fall brings, even though we are lucky on the Vineyard to witness them in slow motion.
Perhaps your weekend plans should be no more ambitious than gathering friends and family for delicious meals, for drinks on the deck, for walks on the beach, or for ice cream runs, but if you'd like to fill in with a film, a show, a concert, a market, or any one of several interesting events, the Island has conspired to deliver that — and more — this Labor Day weekend.
Friday, August 31 | All that Jazz
With the Derby starting next weekend, we're definitely going to take advantage of a special fishing workshop with the legendary Janet Messineo being hosted by ACE MV this morning. It runs from 7 a.m. to 10 a.m. The location will be announced to all who attend that morning. This afternoon we're taking friends to experience a cheese tasting and experience at the Grey Barn and Farm at 1:30 p.m.
At 5 p.m., some of us are heading to the ag hall for opening night of the Vineyard Artisans Labor Day Weekend Festival, which also runs 10 a.m. to 5 p.m. on Saturday and Sunday. And some of us are going to hear SAGE, the all women's jazz and blues supergroup performing for the second night of the MV Jazz and Blues Summerfest. The concert starts at 6:30 p.m. at the Old Whaling Church in Edgartown.
Saturday, September 1 | Showtime
Take it easy this morning with a stroll through the Chilmark Flea, the West Tisbury Farmers' Market, or the Vineyard Artisans Festival. Or visit Felix Neck for a Climate Change Walk and Talk at 10 a.m. Then chill out at home or on the beach, because the evening is full of great choices.
For art lovers, the Louisa Gould Gallery in Vineyard Haven is having its 11th Annual Invitation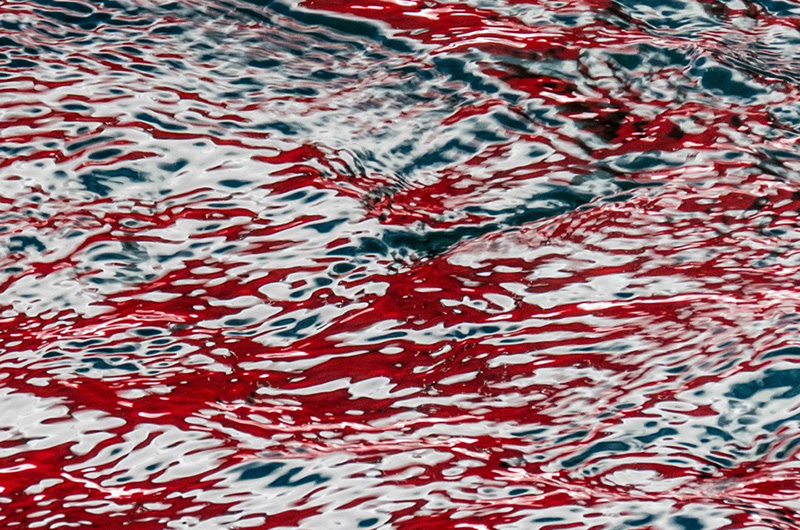 Abstract Show, with a kickoff party from 5 p.m. to 7 p.m. tonight. Six local artists will be included: Jo-Ann Bates, Michaele Christian, Roberta Gross, Martha Mae Jones, Laura D. Roosevelt (photograph at right) and Chetta Kelly. The show will run through September 12. Also, tonight is the Oak Bluffs Art District Stroll from 4 p.m. to 7 p.m. and the opening of a new show at the Alison Shaw Gallery at 4 p.m.
For music lovers, Grammy-nominated Jazz and R&B songstress Alyson Williams performs tonight at Union Chapel at 6:30 p.m. as part of the MV Jazz and Blues Summerfest. And there are many more great options for live music lovers at venues all over the Island tonight.
For film lovers, Crazy Rich Asians (5:00 p.m.) and BlackkKlansman (8:00 p.m.) play at the Capawock tonight and the new film Puzzle plays at the MV Film Center at 7:30 p.m. And mark your calendars for the Martha's Vineyard International Film Festival which begins next week.
And for theater lovers, don't miss the new play Chilmark at the Vineyard Playhouse. Chilmark takes place in the late 19th century when many members of the Island's up-Island community were deaf-mute. (Read more about director Catherine Rush here.) Tonight's performance begins at 7:30 p.m. For dance lovers, visit the Yard for a performance by the Schonberg Fellows tonight at 7 p.m.
Sunday, September 2 | In the open air
Visit the Oak Bluffs Open Market today from 10 a.m. to 2 p.m. or head over to Edgartown for a Harbor Tour at 12:30 p.m. Afterwards, have lunch and do a little shopping in town, then visit the charming Old Sculpin Gallery at 5 p.m. for the opening reception of the AIRE MV artists' show at 5 p.m.
Head back to Oak Bluffs to catch the sunset from East Chop Lighthouse (opening at 6 p.m.) or to watch tonight's Summerfest performance at Union Chapel — three-time Grammy nominee (and former back-up singer to Stevie Wonder) Maysa. The concert begins at 6:30 p.m.
Or if you're feeling like you'd rather relax in a cool movie theater, the well-reviewed film Eighth Grade plays today at 4 p.m. at the Capawock Theater, Vineyard Haven. Crazy Rich Asians shows at 7 p.m.

Aug 30 6:30pm
MV Jazz & Blues Summerfest: Jazzmeia Horn

Sep 1 11:30am
Farm & Garden Greenhouse Celebration

Sep 1 4pm – Sep 2
Open Studio: Art & Antiques
Studio

Sep 3 7:30pm
Monday Night Special: Dear Edvard

Sep 3 12pm
Art Show: The Beautiful Difference
Featherstone Center for the Arts


Sep 5 5pm
Special Screening: Out of My Head
Capawock Theatre
Top photo:  Jeanna Shepard
Want to receive Island Time by email? Sign up for our twice-weekly newsletter and find out what's happening on Martha's Vineyard.