August 23: By The Light Of The Full Moon
August 23, 2018
The end of August has a split personality—part summer, part other. The other is something we welcome but don't quite want to imagine yet, despite scuttling clouds and stiffer breezes reminding us of what's around the corner. It's a good time to stay in the present, especially with a lay weekend between Fair week and Labor Day and a forecast that looks dry and comfortable.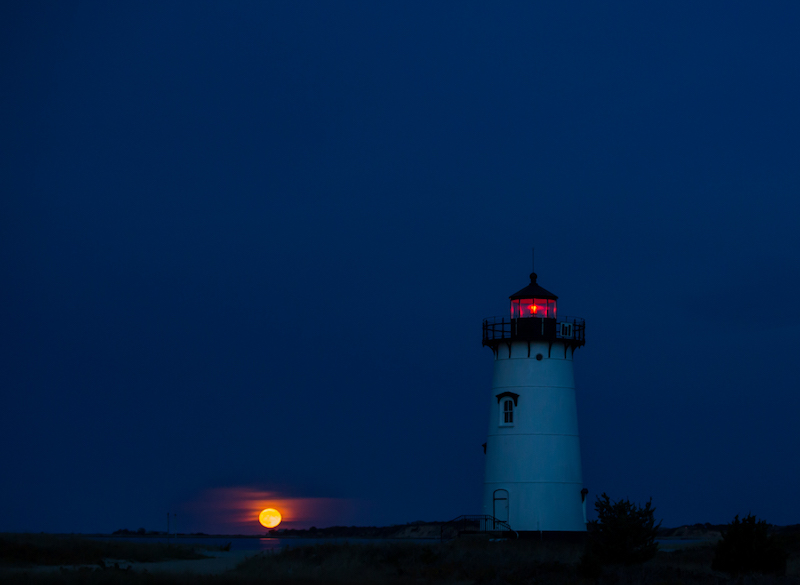 We're going to get outside as much as we can, which shouldn't be hard; the calendar is stacked with outdoor activities, from paddleboard adventures to farm visits to outdoor music. Plus, the moon is full on Sunday. We're going to take our chairs to the beach at twilight and watch it rise. South Beach will offer a good view of the moon rise over the watery horizon around 7:45 p.m. The Oak Bluffs fishing pier will be another good viewing spot, as will Telegraph Hill, home of the East Chop Lighthouse. (Photo of Edgartown Light by Maria Thibodeau.)
Friday, August 24 | Among the Trees
Start the day out with a Drawing from Nature class at Polly Hill Arboretum or a Kayak Quest at Felix Neck, both starting at 9 a.m. Or if you'd rather get going a little later, go for a walking tour of the FARM Institute at 10 a.m. or an Architectural Walking Tour of Edgartown at 10:30 a.m.
Tonight we're looking forward to both a book talk and a film. At 7 p.m. debut memoirist Jeanne McCulloch will discuss her book All Happy Families at Bunch of Grapes bookstore. At 8 p.m. we're going to see what all the buzz over Crazy Rich Asians is all about.
Saturday, August 25 | East to West
This morning we're heading to Chappy for a Cape Pogue Lighthouse Tour. Tours begin at 10:30 a.m. with complementary pickup at the Chappy Ferry with pre-registration.
Once we get back, some of us are hopping to the other end of the Island for a very cool event on indigenous food and sustainability at the Aquinnah Cultural Center. Walking Corn Mother's Path, co-sponsored by Island Grown Initiative, features a panel of representatives from the Mohawk, Narragansett, Aquinnah Wampanoag, and Mashpee Wampanoag tribes and will include a signing by Professor Elizabeth Hoover of Brown University of her new book, The River Is In Us. The event begins at 5 p.m.
The rest of us are going to start the evening out at Featherstone's Anonymous Art Show & Sale. What a cool idea! It runs from 5:30 p.m to 8:30 p.m. The Vineyard Arts Project presents a performance of the musical Poster Boy by The Public Theater at 7 p.m. And the Vineyard Sound gives their Farewell to Summer Concert tonight at the Old Whaling Church at 7:30 p.m.
Sunday, August 26 | Cars, Kayaks & Campfires
The 28th annual Oar & Paddle Regatta launches from the little bridge at State Beach this morning at 8:30 a.m. A beach cookout and awards ceremony with music will follow. The Tisbury Fire Department's 12th annual car show happens at the high school starting at noon.There's a Full Moon Kayak & Campfire event at Long Point Wildlife Refuge at 7:30 p.m. And the Vineyard Haven Town Band plays in Ocean Park at 8 p.m.If that isn't enough to lure you out from behind your beach read, BlackkKlansman plays at the Strand at 7:30 p.m.

Aug 23 1pm – Aug 30

Aug 26 7pm
Author Talk: C. Jeffrey Stewart

Aug 30 6:30pm
MV Jazz & Blues Summerfest: Jazzmeia Horn

Aug 26 9am – Oct 7
Au

g 28 8pm

Sep 16 9:45am
5k Run/Walk to the Chop and Fun Run
Top photo:  Tim Johnson
Regatta photo:  Mark Alan Lovewell
SAVE THE DATE
Aug 31 – Sep 2 Vineyard Artisans Labor Day Weekend Festival | Find Out More
Sep 4 – Sep 9 Martha's Vineyard International Film Festival | Find Out More
Sep 9 Martha's Vineyard Striped Bass & Bluefish Derby | Find Out More
Want to receive Island Time by email? Sign up for our twice-weekly newsletter and find out what's happening on Martha's Vineyard.