August 9: Book It
August 9, 2018
We'd like to hit the pause button on summer. Thing is, we haven't finished our summer reading. Truthfully, we haven't started it. We're dreaming of spending the day, the week, maybe the rest of the month like the two friends on the beach in the photograph above. It's not that we don't have a stack of possibilities, but days are busy and beach time extremely limited (heavy sigh). Well, there's always fall for actual reading.
In the meantime, we'll keep adding to our collections, starting tonight with a trip up to the Chilmark Community Center to hear Nell Scovell talk about her new memoir, Just the Funny Parts…And a Few Hard Truths About Sneaking Into the Hollywood Boy's Club. Part of the MV Author Series, the talk and book signing begins at 7:30 p.m.
And while we're on the subject of women in Hollywood, mark your calendar now for a special event next Tuesday at the Film Center that benefits the youth scholarship awards: Women in Film will feature four panelists from the film industry, including director Julie Taymor and screenwriter Misan Sagay, discussing the past, present and future of women in the film industry.
Between now and then, don't miss the remainder of the 16th annual MV African American Film Festival happening at the Martha's Vineyard Performing Arts Center through Saturday. And Spike Lee's BlackkKlansman hits the theaters this weekend, showing at the Strand at 8 p.m. every night this weekend.
Friday, August 10 | Laugh, Cry, Dance
We're planning to add another book to our collection tonight when we visit Bunch of Grapes bookstore to hear Ben Austen discuss his highly acclaimed book, High-Risers: Cabrini-Green and the Fate of American Public Housing. The event starts at 7 p.m.
The Built on Stilts Festival is in Oak Bluffs this weekend, with the first performance tonight at 8 p.m. After that you could hit the Ritz for the Groove for Good fundraiser at 10 p.m.; music by Grateful Dead cover band, Bear's Choice.
Over in Edgartown, the Martha's Vineyard Comedy Fest lands at the Edgartown Diner with Best of the Fest at 9 p.m. (Dinner starts at 7 p.m.)
Saturday, August 11 | Just Peachy
You can't run, but you can hide—oops, we mean watch—the Chilmark Road Race, which starts at 10:30 a.m. today. Registration for the 5K race is closed but watching the finish at Beetlebung Corner might be more fun if this heat keeps up. Either way, you'll all want to head down to the Peach Festival afterwards for fresh peach ice cream, cobbler and shortcake. The event runs from noon to 4 p.m. at the West Tisbury Congregational Church.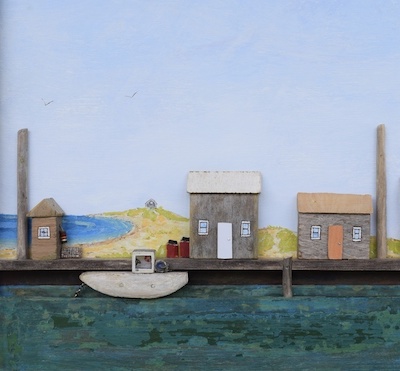 With the Harlem Fine Arts Show going on this weekend at the Harbor View, you might want to check out one of many presentations by artists; Ted Ellis is on at 3 p.m today. Up-Island art shows include Ashley Medowski Gallery's opening reception for her latest work; Birds, Fish, Boats + Barns showcases her carved driftwood and assembled mixed media pieces (like the one shown at right).
Tonight at the Performing Arts Center at 8 p.m. the Martha's Vineyard African American Film Festival presents a conversation with Academy Award winning director Barry Jenkins and exclusive clips from If Beale Street Could Talk, based on the James Baldwin movie.
Sunday, August 12 | Show Stoppers
The annual Chicken Alley Art and Collectible Sale happens today from 1 p.m. to 5 p.m. in Vineyard Haven. Arrive early to get a look at the good stuff. All proceeds benefit Martha's Vineyard Community Services.
There are art openings tonight at Old Sculpin, the Field Gallery, and at Featherstone; visit one, then wind up the evening at the East Chop Lighthouse which is open from 6 p.m. to 8 p.m. today just for sunset viewing. You'll have just enough time to make it to a film: Christopher Robin plays at the Capawock at 8 p.m.

Aug 9 7:30pm
Vineyard Haven Band 150th Anniversary Concert

Aug 10 12pm
[RIISE MV] Annual Brunch & Beach: Legacy Wealth On Martha's Vineyard
Winnetu Oceanside Resort


Aug 10 7:30pm
Special Screening: Far From the Tree
Aug 10 12pm – Aug 12
Aug 10 5pm

Aug 13 5:30pm
SAVE THE DATE
Aug 15 Grand Illumination Night | Find Out More
Aug 16 – Aug 19 Martha's Vineyard Agricultural Fair | Find Out More
Aug 16 A Conversation with Honorable Valerie Jarrett | Find Out More
Want to receive Island Time by email? Sign up for our twice-weekly newsletter and find out what's happening on Martha's Vineyard.
Top Photo: Jeanna Shepard    
events
things to do