August 2 – On Your Mark
August 2, 2018
Sleeping is overrated. And, honestly, who needs down time? Well, we hope you're rested, because here comes August on the Vineyard. You might just want to wear your sneakers to bed so you can get up and start moving the minute day breaks. A short nap will be permissible, though; if only for the fact that you may have to double up on nighttime activities—there are so many interesting events, films, shows, speakers and excursions that it will be hard to choose just one every day.
Wasting no time, let's get on with the highlights of this weekend, starting with tonight. And please note, there's no way we can list all of the good stuff in one newsletter—visit The Complete Martha's Vineyard Calendar for a comprehensive listing of events every day. You can search by day, week, or month—or by topic (kids, music, nature, art, etc.) if you like.
Thursday, August 2 | No Laughing Matter
Bring the whole family up to Menemsha this afternoon at 4 p.m. to Meet the Fleet and celebrate the Island's commercial fishing history. Music, food, demos, raffles, and more.
Tonight, Patti Griffin's in concert at the Old Whaling Church at 8 p.m. Read Holly Gleason's interview with Griffin in the Gazette.
And David Cohen, former Deputy Director of the CIA and former Under Secretary of the Treasury for Terrorism and Financial Intelligence, speaks at the Hebrew Center as part of the Summer Institute speaker series at 7:30 p.m.
Tonight is also the second night of the Martha's Vineyard Comedy Fest, 7 p.m. at the Lampost.
Friday, August 3 | Decisions, decisions
Tonight, there's something for everyone, but making a choice may be tough.
Le Patin Libre, the riveting group of ice performers, returns to the Vineyard with its new show, Threshold, happening tonight at the MV Ice Arena at 7 p.m. and tomorrow (Saturday) at 11 a.m.
The Martha's Vineyard Film Festival is showing a free outdoor screening of the documentary about surfer Bethany Hamilton at Owen Park Beach at 8 p.m.
The M.V. Film Society's Documentary Week continues with a screening of 306 Hollywood, a film about two siblings who undertake an excavation of their late grandmother's house (7:30 p.m.).
Tonight is the first night of the Martha's Vineyard Gospel Fest. Piano/organ virtuoso Quennel Gaskin and renowned saxaphonist Michael Gayle will perform an evening of jazz, classical and contemporary Christian music at Union Chapel, starting at 7 p.m..
Simultaneously, The African American Literature & Culture Festival is holding its art gala from 6 p.m. to 10 p.m. at the Oak Bluffs Library. The work of James W. Jennings, Suesan Stovall and Jordan Burnham will be featured, with music by Papa J.
Saturday, August 4 | Art for Art
The African American Literary and Cultural Festival continues today with an exciting lineup at the Oak Bluffs Library that includes author LaShonda Katrice Barnett (Jam on the Vine) at 11 a.m.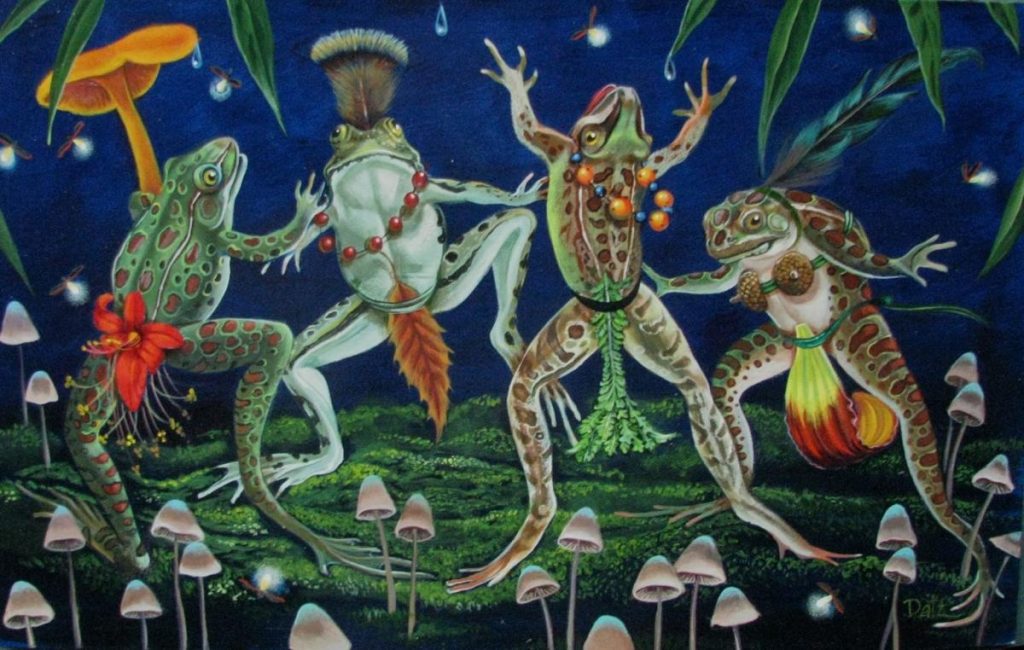 We'll be at the Grange Hall some time between 4 p.m and 8 p.m. today, because we don't want to miss artist Margot Datz's Annual Art Show. This year the theme is party animals. We're also planning to hit the Arts District Stroll in Oak Bluffs between 4 p.m and 7 p.m. (Yes, we have our sneakers on and the car gassed up.)
Some of us are going to skip the cross-Island dash and hang in Edgartown for the evening, starting with the Sip & Shop event at Edgar to support the Vineyard Conservation Society (4 p.m. to 7 p.m.). We may also stop in at Rosewater Market for the Farmhouse Pottery Trunk Show (4 p.m. to 8 p.m.) We're looking forward to hearing international opera star Laquita Mitchell in concert tonight at St. Andrew's Episcopal Church at 7 p.m.
Sunday, August 5 | Calorie Burn
We weren't kidding about the sneakers: This morning we're doing the annual Amity 5K, starting at the FARM Institute at 9 a.m. That's so we can burn some calories and make room for tonight's launch of the new cookbook, Chef Deon's Island Conch Cookery, by Chef Deon Thomas with photographs by Vineyard photographer Randi Baird. The party starts at 5 p.m at the Oak Bluffs VFW.
After that we might head over to the East Chop Lighthouse, which is open for sunset viewing only on Sunday nights. Tonight there's music to go along with the view: The M.V. Spirituals Choir will perform starting at 6 p.m.
Up in Chilmark, the M.V. Author Series continues with a talk and signing by Cecile Richards, author of Make Trouble: Standing Up, Speaking Out, and Finding the Courage to Lead, a memoir of her leadership of Planned Parenthood. The program begins at 7:30 p.m. In Vineyard Haven, the Summer Institute Film at the Hebrew Center tonight is a riveting one: Foxtrot shows at 7:30 p.m.

Aug 1 – Aug 4
Documentary Week  
Martha's Vineyard Film Center

Aug 2 5:30 pm
On the Waterfront
Old Sculpin Gallery
Aug 3 9 am – Aug 10
Creative Connections: Unleash Your Creative Fire 
Misty Meadows Equine Learning Center
Aug 4 5 pm
Lifting the Veil: Shame, Secrecy and Abortion Access on Martha's Vineyard
Old Whaling Church
Aug 5 12 pm
Skeet Championship
Martha's Vineyard Rod & Gun Club

Aug 13 5:30 pm
Summer Soiree   
Farm Neck Golf Club
Top Photo: Maria Thibodeau    
Want to receive Island Time by email? Sign up for our twice-weekly newsletter and find out what's happening on Martha's Vineyard.
SAVE THE DATE
Aug 6 – Aug 11 16th Annual MV African American Film Festival | Find Out More
Aug 14 MV Concert Series: Mavis Staples | Find Out More
Aug 15 Grand Illumination Night | Find Out More
events
things to do
this week