July 26: Hold on to Your Hat
July 26, 2018
Hold on to your baseball cap—it's all happening now. Tomatoes are ripening, the first local corn has been picked, sunflowers are popping. The water is warm (76 degrees, taken this morning in Edgartown Harbor by dedicated Gazette staffers), little Optis scootch around Vineyard Haven Harbor (right), and beach parking lots are filling up early. It might be enough to spend this last weekend in July on the beach or on the water, cooking at home for friends (we suggest this tomato-zucchini gratin), and perhaps venturing out for a free outdoor concert.
But if you're a bit more ambitious, the options for shows, films, speakers, concerts, tours, and other events are many. So many, in fact, that we decided to offer a crib sheet to help you plan your weekend, depending on what you're interested in.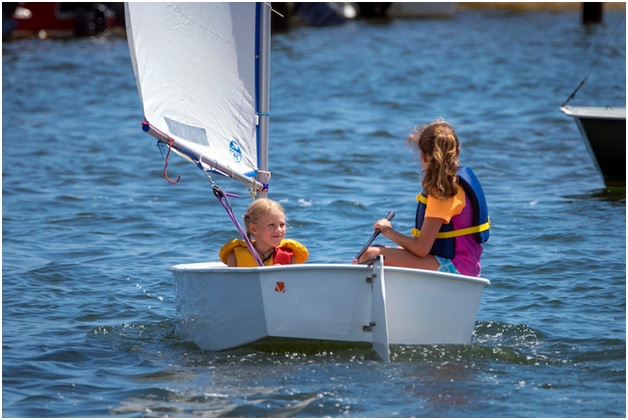 1. Live Theater: See Hamlet performed outdoors at the Tisbury Amphitheater. The Island Theatre Workshop's staging of Mary Poppins is on at the Martha's Vineyard Performing Arts Center. And Angela's Mixtape has just opened at the Martha's Vineyard Playhouse.
2. Live Music: Hear the MV Spirituals Choir; the Vineyard Sound; Johnny Hoy; the Dock Dance Band; the Met Opera; the Vineyard Haven Town Band; the Sunset Concert Series; the Songs From Cinema event starring Siren Mayhew; or the MV Chamber Music Summer Concert Festival.
3. Markets & Fairs: Choose from the Vineyard Artisans Summer Festival, the Antiques/Vintage Show and Sale, the West Tisbury Farmers' Market, the Chilmark Flea Market, the Oak Bluffs Open Market, and the Flea and Fine Arts Market at Featherstone.
4. Farm and Nature Tours: Take a walk around the FARM Institute, take a tour of Grey Barn and Farm, visit IGI's Farm Hub, take a guided tour of Polly Hill Arboretum, go on a Kayak Quest at Felix Neck.
5. Tastings: Sign up for a wine dinner at Atria or at Garde East. Hit the Lobster Roll Drive-Thru at the Edgartown School, Pizza Night at Orange Peel Bakery, S'mores night at the Beach Plum Inn, or the Summer Ice Cream Social on Chappy. Take a Brewery Tour or an Oyster Tour. Check out the Sip and Shop event at Edgar and take home a vintage Vineyard Gazette tee shirt. Or check out any one of more than 30 events involving food during the week ahead.
6. Speakers: Hear Nafissa Thompson-Spires talk about her new collection of stories, Heads of the Colored People; hear retired Brigadier General Eival Gilady talk about resolving the Israeli-Palestine conflict; hear Woody Tasch talk about slow money.
7. Art Openings: See a retrospective of Harthaven artists at Featherstone; take in a Stina Sayre fashion show; see Carol Brown Goldberg's art at the Chilmark library.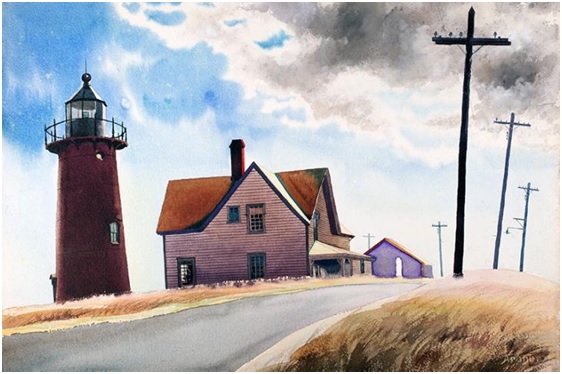 8. Films: Black Panther is back; Mission: Impossible is back; Jaws never goes away.
9. Special Events: The 40th Annual Possible Dreams Auction to benefit Martha's Vineyard Community Services happens Sunday at the Winnetu Oceanside Resort, starting at 3:30 p.m.; a special drive-in screening of the film E.T. will benefit the Martha's Vineyard Agricultural Society; the West Tisbury Library's having its annual book sale, and The African American Cultural Festival is on.
Photo at upper right: Tim Johnson; painting above left: Sandy Low

July 28 2:30pm

July 29 5pm
Art Opening: Jennifer Christy, Max Decker & Michael Stimola

July 30 – Aug 4

Aug 4 8pm
Film & Conversation: Our Place in the Sun
SAVE THE DATE
Aug 14 MV Concert Series: Mavis Staples | Find Out More
Aug 15 Grand Illumination Night | Find Out More
Aug 16 – Aug 19 Martha's Vineyard Agricultural Fair | Find Out More
Want to receive Island Time by email? Sign up for our twice-weekly newsletter and find out what's happening on Martha's Vineyard.
events
Island Time
things to do
this weekend