Enjoying the Sunset From East Chop Light
July 20, 2018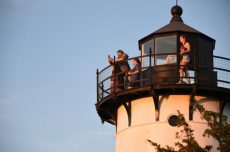 What a great way to end the day—viewing the sunset from East Chop Light. This Oak Bluffs lighthouse, which sits atop a hill on East Chop Drive overlooking Vineyard Haven harbor, is only open at sunset time on Sundays during the summer (7 p.m. to 9 p.m. through July 29; 6 p.m. to 8 p.m., August 5 – September 9), so grab the chance to take in the view. (Here's a great slideshow of the light and its surroundings.) You can also contact the Martha's Vineyard Museum, which now owns and manages the light, if you're interested in having an event on the lighthouse grounds.
East Chop Light is a great choice if you're only on the Island for a short visit. But it is only one of a total of five lighthouses on the Island, each with a special history.
If you're on the Vineyard for an extended stay, you'll want to make the trip up to Gay Head Light, which was relocated away from eroding cliffs in 2015. Gay Head Light was commissioned by President John Adams in 1799, thought the current red brick structure was built in 1856. A new documentary about Gay Head Light, Keepers of the Light,  from filmmakers Liz Witham and Ken Wentworth just debuted on the Island and can be seen on WGBH TV Boston in October.
You'll also enjoy the view of sailboats, Edgartown Harbor, and Chappaquiddick from  Edgartown Light, which is open daily, 10 a.m. to 4 p.m., through September 3.
Over on Chappy, the most remote lighthouse, Cape Pogue, is owned and operated by The Trustees of Reservations, which gives regular tours during the summer.
West Chop Light isn't open to the public, but is a worthwhile destination nonetheless, as the short drive out of Vineyard Haven takes you to spectacular views of Vineyard Sound.
Photos by Jeanna Shepard.
lighthouse
sunset
things to do