The Week Ahead: Friday, May 25 through Thursday, May 31, 2018
May 25, 2018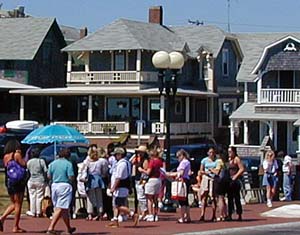 The long awaited Memorial Day weekend kicks off the Week Ahead with a lineup of events that span the 3-day weekend and beyond. For starters, check out the Island's live music scene at the Ritz in Oak Bluffs or The Port Hunter in Edgartown or head over to the MV Film Center for an exciting roster of films being screened as part of the annual Environmental Film Festival.  On Saturday the action heads up to West Tisbury where Vineyard Artisans  opens its season with their annual Memorial Day Show; on Sunday, hit the pavement or cheer on the runners taking part in Oak Bluff's yearly Road Race. On Monday, celebrate with the town of Tisbury at its annual town picnic held on the graceful lawn just a short stroll from the Tashmoo Overlook.  Though the weekend comes to an end, the fun continues with more great activities including a book talk, moonlight kayak adventure and photography show at Featherstone Center for the Arts.   Welcome to the summer season of 2018 on Martha's Vineyard and the Week Ahead!
Friday, May 25
4th Annual Martha's Vineyard Environmental Film Festival
Today brings us the second day of the Martha's Vineyard Environmental Film Festival which continues through Sunday.  Check the calendar for film schedule.
Saturday, May 26 through Sunday, May 27
20th Annual Spring/Memorial Day Weekend Artisans Festival
Two days of the best Vineyard craftsman and artisans have to offer. Come to shop, come to browse!
Sunday, May 27
25th Annual Memorial Day Oak Bluffs Road Race
5K run/walk and 1 mile fun run. Starts at Oak Bluffs' Ocean Park and finishes back at the Summer Camp Hotel directly across from the harbor. Proceeds benefit Hospice of Martha's Vineyard.
Monday, May 28
Memorial Day Picnic
Tisbury celebrates the holiday with a town picnic at the Tashmoo Spring Building.  Music, food, games for kids, row boating and fun!
Tuesday, May 29
Moonrise Kayak Tours
Explore Sengekontacket Pond in the light of this month's full moon. Guided kayak tour begins as the sun sets and stars come out.
Wednesday, May 30
Talk: Whaling on Martha's Vineyard
The Chilmark Free Public Library  hosts local author Thomas Dresser who will be giving a talk at on his new book Whaling on Martha's Vineyard.
Thursday, May 31
Opening Reception: MVRHS Photography Show
Featherstone Center for the Arts  presents photos taken by  Davin Tackabury, Tyla Packish and Daniel Rivard and MV Regional High School students. Exhibit will continue through May 20.
.