The Week Ahead: Friday, December 22 through Thursday, December 28, 2017
December 22, 2017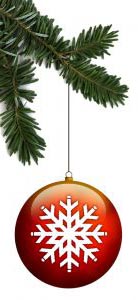 Happy Day 1 of the winter season! By the time this Week Ahead winds down, the first half of winter holiday celebrations will be behind us and we'll be days away from a brand new year.  Though there is plenty of bustle on the Vineyard, events have not taken a back seat to last minute holiday shopping, traveling 'off' for some and preparing for visits 'on' for others. Island movies are doing their part to contribute to the magical atmosphere with screenings that span the imagination from the Star Wars: The Last Jedi backwards in time to The Man Who Invented Christmas, which explores the creation of Charles Dickens' Christmas Carol. Regardless of how you celebrate the season, we wish you all a festive week and a happy holiday as you enjoy the Week Ahead.
Friday, December 22
Painting Party
Pay Santa the ultimate compliment: learn to paint "Here Comes Santa Claus" at Jazen's Art Studio from 6-8 pm.
Saturday, December 23
Gingerbread House Competition
Gingerbread House Competition wraps today with viewing and judging of entries at the Oak Bluffs Library from 10-5 pm
Sunday, December 24
Skate with Santa
Skate with Santa and the MVRHS Girl's Ice Hockey Team. Games, refreshments, music and photo opportunities too.
Monday, December 25
Deck the halls and be jolly!
Tuesday, December 26
Winter Break Crafts for Kids & Families
Drop by the Children's Room during school break for fun, age appropriate crafts!
Wednesday, December 27
Family Movie Night
Join us for a family movie night. We will have food and crafts set up in our community room so the whole family can enjoy.
Thursday, December 28
Winter Break Crafts for Tweens & Teens
Drop by the Young Adult Room during school break for a fun offering of crafts!