The Week Ahead: Friday, October 20 through Thursday, October 26, 2017
October 20, 2017
Eat hearty, sip selectively and schmooze happily this weekend at the returning Martha's Vineyard Food & Wine Festival and the Local Wild Food Challenge spanning the weekend ahead, having already kicked off on Thursday and moving right on through to Sunday.  Don't think foraged food is your thing?  Well think again, because how could you help but be tempted by dishes that spotlight local mushrooms, wild autumn fruits and greens and of course the Islands abundant seafood and game. As we move into the Week Ahead, hints of Halloween begin to surface at the MV Museum and Island libraries while scarecrows peer spookily from storefronts.  If you haven't found your perfect pumpkin yet, now's the time to hunt one down at farm stands or grocery stores.  Enjoy the Week Ahead!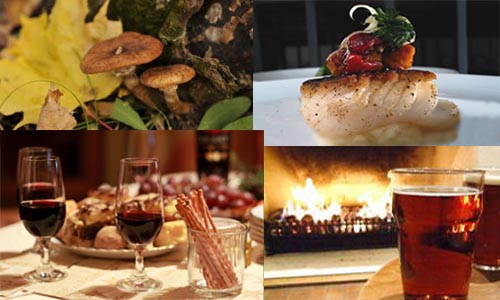 Friday, October 20
Crafty Fridays at the Edgartown Library
Join us after school for a fun craft project that changes weekly. This week make a whimsical fairy house in time for Halloween.
Saturday, October 21
Electronics Disposal Day
What we've all been waiting for! Off-Island disposal in an environmentally friendly way. Recycle your all things electric and support Martha's Vineyard Community Services at the same time – now that's multi tasking at its best!
Sunday, October 22
Make Your Own Tote Bag Workshop
Create a bag for carrying your books, groceries or your Halloween candy haul at the West Tisbury Library.
Monday, October 23
Creative Painting Class with Bruce Kissell
Get Creative with Paint! Bruce Kissell will show you how. All materials are provided. Free.
Tuesday, October 24
Exhibit: Spooky / Not Spooky
What makes an object spooky? Is it the way it looks or maybe the story it has to tell? Come and see a selection of objects from the Museum's collection.
Wednesday, October 25
Edgartown Library Movie Series
Get a little spooked at the Edgartown Library's current series of true crime movies.  This week: A dark, haunting tale about Ruth Ellis, the last woman to be executed in England.
Thursday, October 26
Armchair Traveler: Iceland
Get comfy at the Oak Bluffs Library and enjoy the beauty and natural wonders of Iceland with Jonathan. Unlike air travel, armchair travel is free and offers far more leg room.
'