The Week Ahead: Friday, September 15 through Thursday, September 21, 2017
September 15, 2017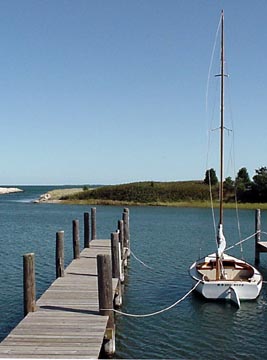 An eclectic mix of events greets us in the Week Ahead.  September has thus far has brought us weather perfect for almost any outdoor activity. With any luck this trend will continue as we get set to enjoy   events including tours, Oak Bluffs annual street fair, sporting events, and getting gardens ship shape for the fall and winter ahead.  Also taking advantage of the mild and sunny weather are the Martha's Vineyard Striped bass and Bluefish Derby participants who we understand are weighing in mightily as this annual fishing completion continues into its second week.  However and wherever you are passing the month of September, enjoy the Week Ahead!
Friday, September 15
Edgartown Walking Tour
Knowledgeable guide leads walking tour  down narrow brick paths, through Edgartown's past and into modern times.
Saturday, September 16
Oak Bluffs Celebrates Tivoli Day
Oak Bluffs' Annual Street Fair takes place on Circuit Ave.  Free admission, live entertainment, food, arts, music and fun for all!
Nashville Hit Makers
Nashville Hit Makers & Country Songwriters and Rising Stars From Nashville including Clay Mills, Jaron Boyer, Marty Dodson, Jimmy Yeary, and Lance Carpenter at the Strand Theater.
Sunday, September 17
7th Annual Golf Classic
Shot gun start at 8am.  Make your own five some or we will match you up.  Limit 80 golfers.
Monday, September 18
Cape Pogue Lighthouse Tour
Sit back and enjoy an over-sand vehicle tour to the remote Cape Pogue Lighthouse. Climb the spiral staircase of the century-old wooden lighthouse and discover its intriguing history.
Tuesday, September 19
Nat Benjamin's Sail to Haiti
Nat Benjamin, of Gannon & Benjamin, talks about his sail to Haiti aboard Charlotte, a 50′ schooner he built. He'll also answer questions about boat building and sailing.
Wednesday, September 20
Taking the Fear Out of Pruning
PHA Horticulturalist/Arborist Ian Jochems explains techniques such as directional pruning, shrub rejuvenation and the three cut method as well as tool maintenance.
Thursday, September 21
Garden Volunteer Work Day
Help our garden grow! Work alongside our knowledgeable garden volunteers and learn about which plants provide food for Island butterflies and birds.