The Week Ahead: Friday, August 18 through Thursday, August 24, 2017
August 18, 2017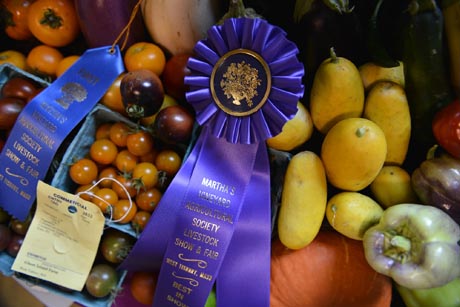 A blue-ribbon worthy Week Ahead starts off on Friday, August 18 with a bang at the Oak Bluffs Annual Fireworks display and the second day of fun at the Agricultural Fair.  The Fair continues through Sunday, August 20, after which we head into a week of exciting events including farm visits, dance and music concerts, wine and wildlife explorations. Of course, there are plenty of other ways to play in the Week Ahead besides those highlighted below. And that's not even taking into account some of summer's most beloved activities: kicking back on the beach, the waterfront or on the hammock in your own back yard, icy drink in hand, taking in the sound of waves, the passing crowds or the song of birds.  However and wherever, enjoy the Week Ahead!
Friday, August 18
Cheese Tasting & Experience
Stop by Grey Barn and Farm to enjoy tasting and learning about its award-winning cheeses. Includes a short  farm tour. No reservation required.
Saturday, August 19
Saturdays on Sengekontacket
This free, hour-long program sponsored by Friends of Sengekontacket explores a different aspect of Sengekontacket Pond each week.
Sunday, August 20
Built on Stilts
Festival shows are free, open to the public and appropriate for all ages. Audiences may come and go as they please. Doors open at 7:30pm followed by drumming and dancers' warm-up.
Monday, August 21
Martha's Vineyard Concert Series Presents: Dirty Dozen Brass Band
Successfully mixing together R&B with the instrumentation of a New Orleans brass band, Dirty Dozen Brass Band revitalizes the brass band tradition and opens up its repertoire.
Tuesday, August 22
Philip Hoffman and Azro Cady at The Yard
It's  "Music For A Change" at The Yard: Driven by the songs of singer/guitarist Philip Hoffman, Azro Cady has made a name in the New York rock scene.
Wednesday, August 23
Martha's Vineyard Concert Series Presents: Black Violin
Black Violin breaks all the rules: Two classically trained violinists and their DJ redefine the instrument with influences ranging from Shostakovich and Bach to Nas and Jay-Z.
Thursday, August 24
Gourmet Wine Dinners at The Terrace
Thursday wine series features a guest sommelier Andrew Bishop of Oz Wine Company joining diners for an intimate and informative gourmet dinner by chef Justin Melnick.