The Week Ahead: Friday, April 21 through Thursday, April 27, 2017
April 21, 2017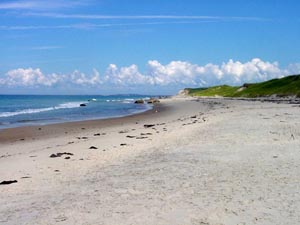 In the Week Ahead we celebrate Earth Day with the annual Vineyard Conservation Beach Clean up.  Along with the return of the ospreys, restaurant re-openings and the return of the Oak Bluffs ferry, this fun community event is one of the iconic springtime markers on every Islander's calendar.  If you happen to be around this weekend, join in and see what the tides have washed in over the winter.  It's a great way to enjoy your favorite Island beach when it's still too cool for sand and surf.  Moving past the weekend, a range of interesting events fill the calendar, culminating with the first ever Spectrum Film Festival..  Enjoy the Week Ahead!
Friday, April 21
Tween & Teen Yoga with Emily Histen
Library Assistant and certified yoga instructor of One Love Yoga will be offering a fun yoga and creative movement class for ages 11+.
Saturday, April 22
Daffodil Show and Spring Celebration
Celebrate spring with a day of flowers and fun! A daffodil display in the Arboretum's Far Barn will showcase dozens of varieties.
Sunday, April 23
Community Poetry Reading
Sunday, April 23rd from 3-4 pm, the West Tisbury Library will host its biannual Community Poetry Reading.
Monday, April 24
Music Film Screening
WMVY's Dave Kish will present a documentary about students, parents, and a visionary teacher composing music together at a New York City public school.
Tuesday, April 25
"Every BODY Can Dance" Workshop
West Tisbury Library offers a workshop with the improvisational modern dance company, "What's Written Within."
Wednesday, April 26
Hydration Talk & Wellness Clinic
VNA nurse, Liz Sanderman will give a talk about hydration as it relates to good health.
Thursday, April 27- Sunday, April 30
Spectrum Film Festival
The Martha's Vineyard Film Society's newest, four-day festival presents "a world perspective on LGBT stories, people and issues" with a variety of films, guest speakers, discussions, and special event.