The Week Ahead: Friday, November 18 through Sunday, November 27, 2016
November 18, 2016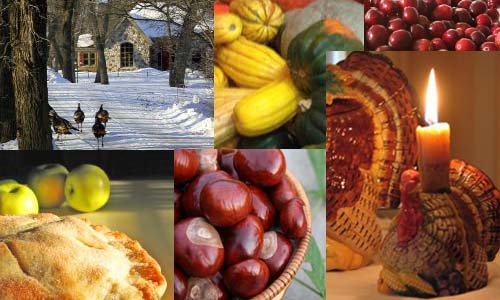 If you check in with the Week Ahead on a regular basis you'll find this one somewhat different.  Leading up to Thanksgiving, mid-week events are understandably somewhat sparse as folks shop, travel and ready themselves for the holiday.  So instead of our day by day listing of events, you'll find this week's selection extending into the holiday weekend, when we expect most of us will be ready to get out and experience what the Week Ahead has to offer.  Happy Thanksgiving and enjoy the Week Ahead.
Friday, November 18
The Annual Holiday Gift Show Preview Party
Be the first to see and purchase Items from Featherstone Center for the Arts' Annual Holiday Gift Show!
Saturday, November 19
Duck Scavenger Hunt
Celebrate the rich history of Long Point Wildlife Refuge with a duck scavenger hunt, crafts, quizzes, story walks and more.
Turkey to Table at Rosewater
Join us at Rosewater Market with Tina Miller for a turkey how-to! Learn how to brine, roast, prepare stuffing, and make gravy! Space limited, please pre-register.
Sunday, November 20
Hike 125: Menemsha Hills
Join us for a guided hike along Menemsha Hills to a view of the historic Chilmark Brickyard! Enjoy the fall colors, hike to the 2nd highest point on Martha's Vineyard.
Tuesday, November 22
Live Music at Offshore Ale
Join us at Offshore Ale Tuesdays for live jazz from 6-8:30pm with  Jeremy Berlin + Eric Johnson.
Thursday, November 24
Island Alpaca Thanksgiving Open House
Island Alpaca hosts a Thanksgiving Open House. Self-guided, walking tour of the 2,400 sf antique Post & Beam Barn and an opportunity to get up close with over 50 alpaca.
Friday, November 25
Annual Fall Festival at Felix Neck
Join us for our Annual Fall Festival. This celebration of fall is a Vineyard tradition held the day after Thanksgiving.Hayrides, face painting, live music, food, wreath making.
2016 Vineyard Artisans Festivals: 20th Annual Thanksgiving Festival
This largest holiday art show by Islanders, features many holiday gifts such as one of a kind winter hand-made sweaters, hand-made soaps, Island lavender, and fine crafts.
Saturday, November 26
MVCMS Thanksgiving Concert
The Old Whaling Church in Edgartown will ring with delightful sound of chamber music, as the Martha's Vineyard Chamber Music Society presents its Thanksgiving Concert.
Sunday, November 27
Holiday Gift Show
Dozens of affordable Island artist-made gifts for sale at Featherstone Center for the Arts.