The Week Ahead: Friday, May 20 through Thursday, May 26, 2016
May 19, 2016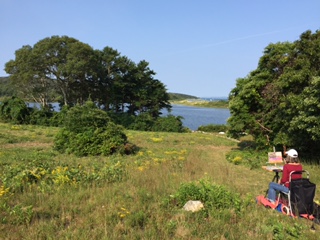 The Week Ahead brings us another step closer to the Memorial Day Weekend with events the whole family can enjoy, ranging from moonlit kayaking, a spring cleaning boost from Martha's Community Services' annual Electronics Disposal Day, several musical events and the start of a new and exciting Film Festival: this one focusing on the environment and our role in it's preservation and appreciation.  Enjoy the Week Ahead!
Friday, May 20
The Art of Flowers with Guest Curator Holly Alaimo
Don't miss this annual springtime exhibit; show ends on June 1. Gallery at Featherstone Center for the Arts is open daily from 12-4pm.
Saturday, May 21
Spring Electronics Disposal Day
Off-island disposal in an environmentally friendly way. Recycle your personal or business electronics at this annual fundraiser and spring clean-up event.
Moonrise Kayak Tour
See Sengekontacket Pond in a new light – moonlight – as we celebrate the different full moons of summer. Guided kayak tour.
Monday, May 23
Monday Night and All that Jazz" with WMVY's Dave Kish
West Tisbury Library and WMVY present "Monday Night and All that Jazz" with Dave Kish.
Tuesday, May 24
Live Music at Offshore Ale
Join us at Offshore Ale Tuesdays for live jazz from 6:30-9 pm with Jeremy Berlin and Eric Johnson.
Wednesday, May 25
Featherstone Uke Jam
Come learn how to play the ukulele in a relaxed, fun atmosphere! Play along with the group and enjoy refreshments and lots of laughs!

Thursday, May 26
Second Annual Nature as Inspiration: MV Environmental Film Festival
The Martha's Vineyard Film Society, in collaboration with the Vineyard Conservation Society, presents the second annual Nature as Inspiration: MV Environmental Film Festival. Begins today and continues through May 29.