The Week Ahead: Friday, May 6 through Thursday, May 12, 2016
May 6, 2016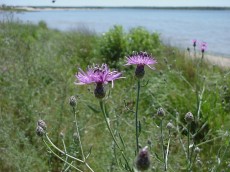 Happy Mother's Day to all Moms out there!  The Week Ahead kicks off with the always exciting Pink and Green Weekend in Edgartown and ends with the start of the MV Wine Fest!  Add to that  guided walking tours, a fundraising feast and library events and you've got a Week Ahead with nary a dull moment and lots of fun for everyone.  Enjoy!
Friday through Sunday, May 6-8
Annual Pink & Green Weekend
The annual Pink & Green Weekend, celebrates Spring and Mother's Day, in Edgartown with great events shopping and more!
Saturday, May 7
Free Guided Walk of Caroline Tuthill Preserve
Sheriff's Meadow Foundation staff will lead a free guided walk through Caroline Tuthill Preserve of oak and pitch pine forest and wooded wetlands, with expansive views of the Sengekontacket salt marshes.
Sunday, May 8
Celebrate Mother's Day
Spend Mother's Day at the Arboretum! The Visitor Center will be open and flowering shrubs will be available for purchase.
Happy Mother Day! See additional ways to celebrate by clicking here>
Monday, May 9
Writers Read
West Tisbury Library hosts its monthly "Writers Read" evening. This event features community members reading short original prose pieces.
Tuesday, May 10
Marc Kantrowitz: Old Whiskey & Young Women
Here, some of the most notorious legal cases in American history are explored. What they have in common is that they titillated, if not repulsed, the entire nation when they first occurred.
Wednesday, May 11
Island Grown Schools Spring Fundraising Feast
Island Grown Schools invites you to our third annual Spring Fundraising Feast at the Sweet Life Cafe. Join us for a locally sourced, four course dinner.
Thursday through Sunday May 12-15
The MV Wine Fest
Thursday kicks off  the  annual four day island-wide celebration of wine and food at local homes and businesses.