The Week Ahead: Friday, April 8 through Thursday, April 14, 2016
April 8, 2016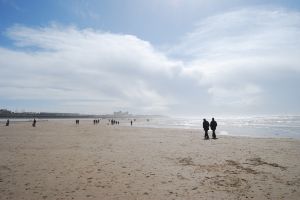 A little bit of outdoors and a little bit of indoors is on offer for the Week Ahead, as seems wholly appropriate for the mixed bag of weather we've been experiencing lately.  Be an optimist who expects the imminent arrival of warmer temperatures and attend a pruning event at Polly Hill, or if winter weather still seems to be too much with us, check out one of the many indoor activities upcoming, including a Cribbage Tournament, watercolor classes and more!  Enjoy the Week Ahead!
Friday, April 8
Astrid Tilton's Photographs on Display
Astrid Tilton will display her photographs "Realizing Waste" inspired by her Plastic Bag Bylaw in the lower level of the West Tisbury Library throughout the month of April.
Saturday, April 9
The Finest Cut: Taking the Fear out of Pruning
Join PHA horticulturalist/arborist Ian Jochems to learn how to take the fear out of pruning. Ian will cover techniques such as directional pruning, shrub rejuvenation and the three cut method.
Sunday, April 10
Cribbage Tournament
Hosted by Jake Gifford of the Lazy Frog Shop. Play begins @ 2:30pm with the ringing of the bell.
Monday, April 11
Making Sense of Watercolor with Lynn Hoeft
If you think watercolor is too difficult, or that you can't fix mistakes in watercolor, this class will show you how.
Tuesday, April 12
Live Music at Offshore Ale
Join us at Offshore Ale Tuesdays for live jazz from 6:30-9pm with  Jeremy Berlin + Eric Johnson.    
Wednesday, April 13
Atria & Offshore Collaboration Night
Atria Chef Christian Thornton teams up with Offshore Head Chef Marc Brasefield to bring you a special menu. Traditional Offshore favorites menu will also be offered. Reservations available.
Thursday, April 14
Annual Potluck Meeting of Slow Food MV
Join us for for the Annual Potluck Meeting of Slow Food MV at the Island Grown Initiative Thimble Farm Hub.