The Week Ahead: Friday, January 1 through Thursday, January 7, 2016
January 1, 2016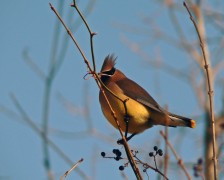 Happy New Year one and all! Movies, stories and crafts ease us into the first week of 2016, providing a happy respite from the holiday whirlwind. Kids head back to school as we all slip back into our comfortable routines, warming us like a favorite and familiar sweater. Lots of opportunities to learn something new too! Enjoy the Week Ahead.
Friday, January 1, 2016
8th Annual New Years Day Disc Golf Tournament
Get outdoors and start the New Year with a rousing game of Disc Golf
Saturday, January 2
Lego Club at The West Tisbury Library!
The West Tisbury Library will be hosting its Lego Club for all ages. Various sizes of Legos will be provided to suit various age groups. .
Sunday, January 3
Open Pottery Studio
The Open Pottery Studio is supervised by Nancy Blank and Carl Mueller.
Monday, January 4
Monday Night at the Movies: Johnny Belinda
Jane Wyman's Oscar-winning performance is the centerpiece of this touching drama set in post-war Cape Breton Nova Scotia.
Tuesday, January 5
Island Stories from the Museum
Dive into the stories behind ten of these objects each month all winter long at various Island libraries.
Thursday, January 7
Pre-School Storytime
The West Tisbury Library presents story time for pre-school aged children.