The Week Ahead: Friday August 14 through Thursday, August 20, 2015
August 14, 2015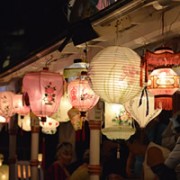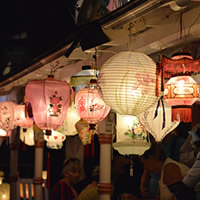 This is the big one everybody: the week that residents and visitors queue up to attend – with Illumination Night, Fireworks and the 4-day Agricultural Fair all lined up at the end of the Week Ahead. Of course there's lots going on at the start of the week too – comedy, concerts and more. Here for a day or the whole week, this is one summer experience you won't want to miss! Enjoy the Week Ahead!
Friday, August 14
Gallery in the Gardens
Gallery in the Garden is an art reception with multiple artists set among the beautiful flowers and shrubs at Vineyard Gardens.  Live music is provided and refreshments are served
Saturday, August 15
5K Run for Jabberwocky
Join us for the 7th Annual 5K Run for Jabberwocky. Flat, fun, scenic course along Edgartown Bay Road and ending at the farm in Katama.
Ellis Paul in Concert
Despite his success and sense of history, Mr. Paul remains an artist with his eye on the future and an interest in discovering the transformative potential in his music.
Sunday, August 16
Chicken Alley Art and Collectible Sale
The staff and volunteers have been collecting items for this year's show throughout the past year and the findings will not disappoint.
Monday, August 17
5th Annual Martha's Vineyard Comedy Fest
The stage is set for HBO, Centric TV and UPTOWN Magazine to present the 5th Annual Martha's Vineyard Comedy Fest, a series of shows that features an all-star cast.
Tuesday, August 18
Lantern Painting
Lanterns, paint and fun! Come and learn how to paint a custom lantern for Illumination Night! Two sessions: one from 10 am to noon and the other from 1:00 pm…
Wednesday, August 19
Grand Illumination, Oak Bluffs
Gather at the MV Camp Meeting Association's Tabernacle for a sing-along followed by the annual Grand Illumination when the hundreds of lanterns hung on gingerbread cottage porches are lit.
Thursday – Sunday, August 20-23
154th Annual Agricultural Society Fair
Rides, games, live music, livestock, competitions, craft demonstrations, food, shopping, art show, and awards for homegrown vegetables, fruits, flowers and homemade goodies.