The Week Ahead: Friday, February 20 through Thursday, February 26, 2015
February 20, 2015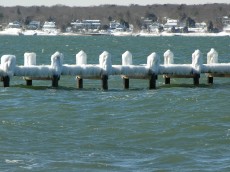 The Week Ahead brings with it winter break for Island schools. Traditionally one of the quietest weeks of the year on Martha's Vineyard, this one promises to be no different with families heading 'off' for annual visits to grandparents, friends and loved ones, to seek out some sunshine or to head for the nearby slopes. But for those of us who will pass the week at home, there are still stirrings throughout the Island to tempt us out into the cold to have some fun. Enjoy the Week Ahead!
Friday, February 20
Stargazing with Mark Alan Lovewell
Want to know more about the night sky? Join us at the Felix Neck Wildlife Sanctuary while we stargaze and learn basic astronomy.
Saturday, February 21
Wicked Good Winter Cabaret
Martha's Vineyard entertains with musical director – Molly Conole and accompanist – Peter Boak. Performers will be Molly Conole, Shelagh Hackett, Paul Munafo, Ken Romero
Sunday, February 22
I Love Ewe: Year of the Sheep Art Show
I Love Ewe: Year of the Sheep Art Show at the Featherstone Center for the Arts. Gallery open Daily from 12-4pm through Wednesday March 11
Monday, February 23 – Friday, February 27
After School Winter Break Program @ YMCA of MV
Designed to provide working parents with quality childcare during school break weeks. Field trips, swimming, ice-skating, arts & crafts and more! Snack provided.
Tuesday, February 24
Poetry Café
Presented by Martha's Vineyard Playhouse, hosted by MV Poet Laureate – Arnie Reisman joined by poets: Rose Styron, Brooks Robards, Annette Sandrock.
Wednesday, February 25
Tie Dye Totes and Tees
Kids, take a close-up look at the exhibit Sea Change: MV in the 1960s. Once inspired, create your own tie-dye tote or tee shirt at the Martha's Vineyard Museum Library
Thursday, February 26
Celebrate "Tell a Fairy Tale Day" & "For Pete's Sake Day"
Listen to some fairy tales featuring gingerbread men and others. Then eat the gingerbread men. All at the Edgartown Public Library