The Week Ahead: Friday, February 6 through Thursday, February 12, 2015
February 6, 2015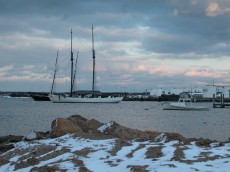 The Week Ahead promises more wintry weather, though not a repeat of the extreme conditions we've just experienced. And, as Valentine's Day approaches there are already a smattering of activities upcoming to prepare for it and the 3-day holiday that it accompanies this year. Meanwhile, look for a low-key week that stresses community while learning new skills and crafts. Enjoy the Week Ahead!
Friday, February 6
Llama Llama Story Hour
Visit with the Llama Llama book character and hear some stories this week at the Edgartown Library beginning at 3:30 pm.
Saturday, February 7
Cathy Walthers: Bread, Cheese Tour and Soup Class
Keep off the cold while baking focaccia bread with a variety of toppings in the kitchen of local baker Kate Warner, who operates a weekly bread CSA in West Tisbury and cook-book author Cathy Walthers.
Come Make Valentines
Children are invited to the Edgartown Library to make Valentines to give away.  Library provides materials, you provide the love.
Sunday, February 8
Painting Party at the PA Club
Let's paint "Winter in Edgartown" together -no experience needed. Celebrate the beauty of the Vineyard off-season while we guide you step-by-step in this wintry nightscape.
Monday, February 9
Edgartown Free Monday Night Community Suppers
Stave off cabin fever at the weekly Free Community Supper in the Baylies Room of the Old Whaling Church on South Main Street, Edgartown
Tuesday, February 10
Ann Charnley: Benjamin Franklin and His Women
Ann Charnley's work with Cokie Roberts has produced a body of work focusing on 'herstory' rather than 'history.' Now she turns her attention to Benjamin Franklin and his women.
Wednesday, February 11
1960s Film Series: Dr. Strangelove (1964)
Step back into the raucous '60s through this classic British-American black comedy screening at the MV Film Center.
Thursday, February 12
Open Printmaking with Nick Thayer
For the experienced printmaker who wants dedicated time to create. Work on your own projects in the printmaking studio.  $10 studio fee.