The Week Ahead: Friday, January 16 through Thursday, January 22, 2015
January 16, 2015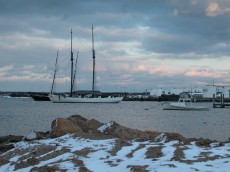 Welcome to the first 3-day weekend of 2015! Starting the work week off with a holiday typically makes for a quiet weekend this time of year, as families head off the Island for skiing and other winter activities not readily available on MV.  Of course the MLK Day holiday is also the perfect opportunity to enjoy a relaxing winter break on Martha's Vineyard. The cold weather that blew in last week has held and a daily light dusting of snow has added some sparkle to the Island's wintry landscape.   Fireplaces are crackling and a warm welcome awaits at inns and restaurants.  Staycation or vacation, enjoy the Week Ahead!
Friday, January 16
"Public Dancing Allowed!!!"
The Yard's "Public Dancing Allowed!!!" event takes place at the Chilmark Community Center of Music by Johnny Hoy and the Bluefish. Ticket sales and donations support The Yard's community outreach programs.
Saturday, January 17
Family Dance Party
Kid-friendly dance at Dreamland with music by DJ Smooth and games is the perfect way to chase away those winter blues and have fun with the whole family.
Monday, January 19
Monday Night At The Movies
Martha's Vineyard Playhouse in association with Island Entertainment presents Monday Night At The Movies with host, Jamie Alley at the Patricia Neal Stage. Admission is $5 cash only at the door. Tonight: Nightmare Alley (1947).
Tuesday, January 20
Demaris Wehr: Making it Through
Demaris Wehr, PhD will speak on the topic of her new book, Making it Through: Bosnian Survivors Telling Stories of Truth. Tonight's talk "Forgiveness:  In the Teeth of Genocide?
Wednesday, January 21
Live Music at Offshore Ale
Join us at Offshore Ale 6 – 8 pm when Eric Johnson plays Classical Guitar  while you dine
Thursday, January 22
Dogs and Cats Exhibit
If you haven't had a chance yet to explore a selection of items from the MVMu's collection in the Spotlight Gallery that feature our lovable furry friends, including scrimshaw, ceramics, photographs, games, and oral histories today is the perfect time to do so.