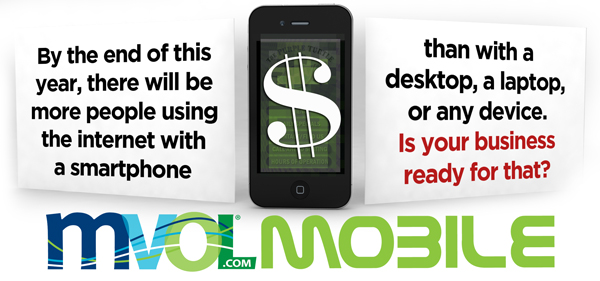 MVOL Invites You to Be Mobile Ready!
The world is changing so fast that it's hard to keep up with where customers are coming from and how they're finding you. We understand – and that's why marthasvineyardonline.com (mvol.com) has made the move to get in front of the curve so you, our customers, can stay ahead of the game, too.
Easy and Quick!
Have you ever looked at your website on a mobile phone? Was it quick to load? Easy to read? Would a customer who wanted to get in touch now be able do so easily?
We've learned a lot about doing mobile sites – how people use them and what their expectations are – and we'd like to show you the possibilities for your business and how affordable and easy 'going mobile' really is (a month costs less than you'll probably pay for lunch today).
We are now building, hosting, and updating mobile websites for numerous clients – sites that work on more than 5,000 mobile devices… give the user Click-to-Call capabilities… have options for Coupons and QR codes… can have Forms… include Photos… synch with Facebook &Twitter… Maps… PayPal… Google Checkout… Store locators… and more! Let MVOL do the same for you.
To get started with a mobile website, please contact us at 508.696.7400 or advertisemv[at]mvol.com
The Top 5 Reasons You Should Consider Being Mobile Ready (PDF)
Sample Mobile Sites
See below for examples of who's mobile ready with Martha's Vineyard Online:
Call us today at 508.696.7400 to get started on your mobile website.