Martha's Vineyard Ferries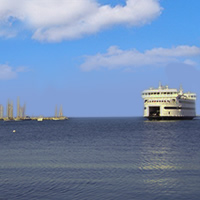 Most visitors to Martha's Vineyard have the pleasure of beginning their Island visit aboard one of several ferries that carry passengers from New York, Rhode Island, and Cape Cod, MA. Year-round, car and passenger ferry service is provided by the Steamship Authority which travels to both Vineyard Haven and Oak Bluffs (seasonal). It is the only ferry service which provides transport for vehicles to and from Martha's Vineyard.
In the summer season, passenger-only ferry service is available from the ports of Falmouth and Hyannis on the Cape and traveling to Oak Bluffs on Martha's Vineyard. Fast ferry service, also for passengers only, is available from New York, NY, Quonset Point, RI and New Bedford, MA. Though schedules for seasonal services may vary, typically these run from the Memorial Day holiday through the Columbus Day weekend. You will find details on fares, schedules and the need to make reservations prior to travel, described within each of the listings below.