Meet Me At the Grange
May 12, 2022
If you've never been to the historic Grange Hall in West Tisbury, this is your week. On Saturday, Climate Action Week winds up with a fun community event at the Grange from 10 a.m. to 2 p.m., and next Wednesday, The Martha's Vineyard Film Festival for 2022 kicks off in its new home – the second floor of the Grange, filled with couches for comfortable viewing. You can even meet at the Grange early Saturday morning (9 a.m.) to set out on a walk through the pastoral landscape of West Tisbury guided by Vineyard Conservation Society director Brendan O'Neill. (Make way for goslings.) Of course there's plenty to do all around the Island this weekend — read on and be sure to check The Complete Martha's Vineyard Calendarfor all your choices.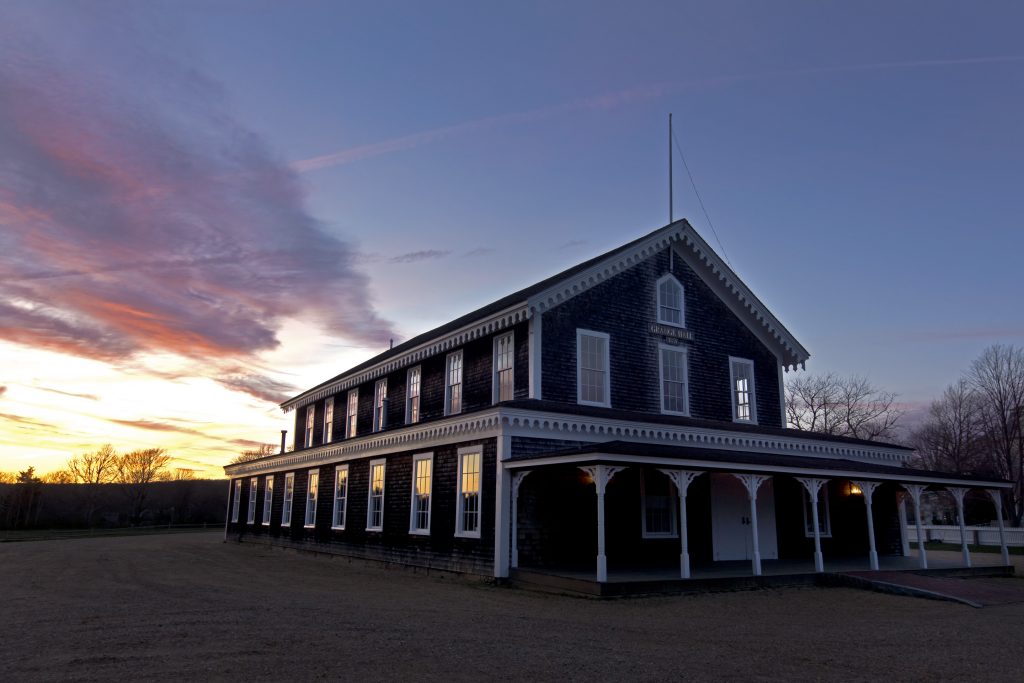 Hit The Ritz Friday, May 13 at 8 p.m. for
Artists For Climate Action
, an evening of music, art, and Island footage from The Martha's Vineyard Film Festival, hosted by Vineyard Future Works to ring in Friday evening of Climate Action Week.
Do you drive an electric car? Join
the electric vehicle fleet
at 10 a.m. at Edgartown Elementary School on Saturday for a drive up to the Grange Hall for the grand finale event (see below).
Join in the fun at the Grange Hall for the
Climate Action Week Finale
event on Saturday, May 14 from 10 a.m. to 2 p.m. Children's activities, food trucks, music, raw bar, a film screening, presentations and more.
The Martha's Vineyard Film Festival 
begins next Wednesday, May 18 and runs through May 22 in its new home at the Grange Hall's upstairs theater, which has been outfitted with couch seating as well as state-of-the-art projection and sound equipment. Films will also be shown at two nearby venues, the First Congregational Church of West Tisbury and the Old West Tisbury Library on Music Street.
Wednesday's films include
892
, a searing drama about a former marine who finds himself on the brink of homelessness (5:00 p.m., Grange Hall) and the intimate documentary
Mama Bears
(7:45 p.m, Grange Hall), which is followed by a discussion with director Daresha Kyi.
Dance the night away at the Martha's Vineyard Museum and bid on auction items to support the Vineyard Montessori School at
Big Night Out
, Saturday, May 14, 7 to 10 p.m. Music by the Brothers McMahon and catering by Quitsa Cuisine.
Molly Conole and Mark Alan Lovewell will hold an album release celebration for their new collection
Home with Molly & Mark, Our Songs of Martha's Vineyard
at Island Music in Vineyard Haven on Sunday, May 15, 7 to 9 p.m. The event includes a live performance that will be streamed on Facebook and YouTube Live at 8 p.m.
On Tuesday, May 17 at the West Tisbury Public Library, Pushcart Prize winner Ben Shattuck will read from his critically acclaimed new book,
Six Walks: In the Footsteps of Henry David Thoreau
.
The reading will be followed by a Q&A with actress Jenny Slate.
The event is free.
Photos: Top, Ray Ewing; bottom, Tim Johnson
What to cook this weekend?