Winter Wonderland: Island Time, January 13
January 13, 2022
Despite the (on-and-off) frigid temps, it's nothing if not stunningly beautiful here on the Vineyard right now. Yes it's winter, but sunsets are still glorious — maybe even more so — with a palate from rosy peach to smoky amber. On snow days, even scrub oaks and wind-worn pines look glamorous, lightly frosted with just the right amount of Currier and Ives appeal.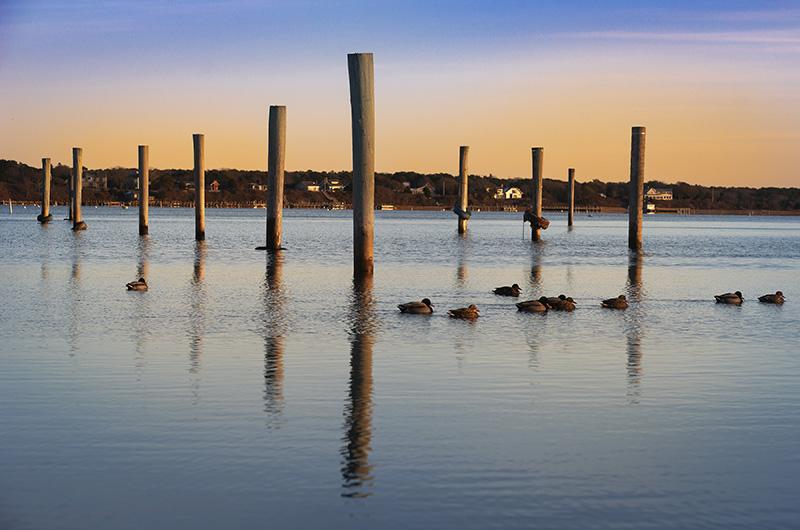 If you venture down to the south shore, you'll hear the ocean roaring and spy the rolling waves dancing in and out of view through the thick gauzy fog. Even the multi-hued gray skies offer nuance and intrigue. If you're not here, and you think we're trying to pull the (sheep's) wool over your eyes, just take a look at these photos from Island photographers Tim Johnson, Albert O. Fischer and Ray Ewing (among others).
And if you are here, remember you've got this beautiful Island —
all 100 trails
, the beaches, Chappy, Gay Head — practically all to yourself right now. It's true there are less group activities on
the calendar
right now, but getting outside can be just the balm you need, so grab a friend for a winter walk. (Or join an organized walk, below.) If nothing else, being outside will sure make coming inside feel great!
Martin Luther King Jr. Day is Monday, January 17 (see weekend events below), and we'll see you back here on January 27.
_______________
Martin Luther King Jr. Day Events
SATURDAY, JANUARY 15
Join the Democratic Council of Martha's Vineyard and Indivisible Martha's Vineyard for the
MLK Voting Rights March
on Saturday, January 15 from 1 to 2:30 p.m. The march – which aims to raise public awareness of the need to protect voting rights across the country – will begin at Five Corners in Vineyard Haven and end at Eastville Beach in Oak Bluffs.
SATURDAY, JANUARY 15
The Edgartown Library has put together craft bags for kids to make a dream wreath in celebration of MLK day. Pick up your
Martin Luther King Jr. Dream Wreath Craft
kit on Saturday between 10 a.m. and 5 p.m.
__________ 

Photos, from top to bottom: Albert O. Fischer, Tim Johnson, Ray Ewing, Ray Ewing