Island Time, July 1: The Magic Hours
July 2, 2021
Take a cue from the fireflies and the sunset watchers and enjoy your Vineyard summer evenings to the fullest this long holiday weekend (and all week long). As an antidote to the hot humid days, evening activities on the Island are multiplying. Vineyard Haven's monthly street and shopping festival, First Friday, starts up again tomorrow. The outdoor summer film series at Featherstone returns on Wednesday. Opportunities to hear live music are rich. And don't forget about old-fashioned stargazing and twilight beach walks. There's no better place to be outdoors on a July night than Martha's Vineyard.
And if you're looking for more events and activities, both day and night, remember you can find them all in
The Complete Martha's Vineyard Calendar
. Happy July Fourth! (Remember, no parade this year.)
Artist Keith Cerone uses neon as his medium of choice, and on Friday, July 2 from 4 to 8 p.m. at The Workshop Gallery in Vineyard Haven, patrons can view his work during an opening reception for his show
Aura
. The exhibition, up through July 14, explores concepts surrounding ancient objects and relics through neon, glass and mixed media.
Last year, Vineyard Haven's First Friday events went virtual. This summer, they're back to in-person. On Friday, July 2 from 4 to 11 p.m. head to VH's Main Street and Owen Park to see work by Island artisans, enjoy some bites from food trucks and to listen to some live music. A full list of bands/musicians, their time slots and where they will be playing can be
viewed here
.
During the pandemic, photographer John Rosenmiller spent time in New York City capturing the changed landscape with his camera. On Tuesday, July 6 at 6:45 p.m., John will be showing a short documentary film he made, titled
City of Covid: New York During Quarantine
, at Featherstone Center for the Arts in Oak Bluffs, followed by a
Photographers Salon
at 7 p.m. showcasing more of his work.
Have you ever wondered how many species of moth call the Island home? On Wednesday, July 7 from 8:30 to 10:30 p.m., join moth expert Paul Goldstein and BiodiversityWorks staff for a
nighttime program
to attract and observe the moths around the
Manuel F. Correllus State Forest headquarters
, and to learn a thing or two about these insects.
The Martha's Vineyard Film Society and Featherstone Center for the Arts have teamed up once again to hold an
Outdoor Summer Film Series
on the Featherstone campus, Wednesday nights in July and August. To kick off the series, on Wednesday, July 7 at 8:30 p.m., there will be a showing of
American Graffiti
. Tickets must be
purchased in advance
online.
July!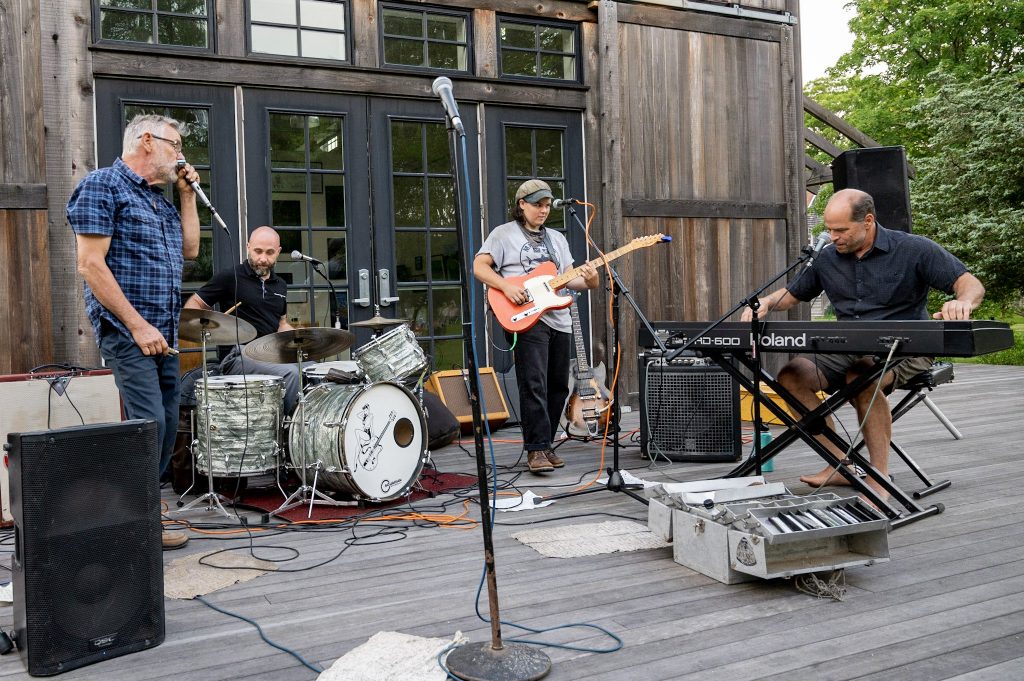 Normally I'd say something like "Can you believe it?!" but the way things are going this season — heat waves, warm(ish) water, August-like crowds — it feels sort of like we've been doing this high-summer thing for a while now, like it or not.
Some things to love:
Nothing says summer like a calendar full of special guests. Visiting
artists
,
dancers
,
authors
and
filmmakers
will be roaming the Island and sharing their work all summer long.
Tonight at 
Seaweed's
guest chefs from Cambridge's Nem Kitchen will prepare a Vietnamese menu as part of a new series in partnership with the Madison Inn. "Rest Pop Up" offers industry professionals a chance to unwind with a 2-night stay on the Island and a series of pop-ups throughout the season. $75/person. 
Purchase tickets and see the (mouth-watering) menu here! 
Deep breaths, everyone, and welcome home.
Alex
Photos: Ray Ewing, top; Jeanna Shepard, bottom.