The Art of June: Island Time, June 3
June 3, 2021
Just like that it's June. Bridge-jumpers and rugosa roses are popping up along State Beach. Screen doors are in, cobwebs are out. We're having our drinks on the deck, our weddings (with real, live guests!) under the tent, and our yoga at the beach. Art is everywhere, with shows and openings from Edgartown to Menemsha. What will you do with this beautiful weekend? Read ahead for some ideas, then check the The Complete Martha's Vineyard Calendar for all the upcoming events and activities.
The boys of summer are officially back. The Martha's Vineyard Sharks'
first home game
at the Shark Tank in Oak Bluffs is on Tuesday, June 8 at 6:30 p.m. Head to the field, grab some popcorn or crackerjacks and watch as the Island's summer baseball team takes on the Oceanstate Waves.
It's time to take your yoga practice outside. And wow, do you have choices. Love goats? Take
Goat Yoga
on Tuesdays & Thursdays from 5:30 to 6:30 p.m. at Native Earth Teaching Farm in Chilmark.
Maybe alpacas are your furry friend of choice – Island Alpaca Company in Oak Bluffs has
Alpaca Yoga
on Tuesdays from 10 to 11 a.m. and Saturdays from 2:30 to 3:30 p.m.
If it's flora, not fauna, you enjoy, get that one-with-nature vibe from a class with YogiJay (a.k.a Jason Mazar-Kelly), who teaches in three locations. On Mondays from 5:30 to 6:30 p.m. try
Yoga at Long Point Beach
. On Tuesdays from 6:30 to 7:30 a.m.,
Sunrise Yoga
happens at Lighthouse Beach in Edgartown. Or check out
Outdoor Yoga
on Saturdays on the MV Museum campus in Vineyard Haven, being held at 8:30 a.m. this week.
June is Pride Month, and in honor of that the Unitarian Universalist Society in Vineyard Haven is having a
LGBTQ+ Flag Dedication
on Sunday, June 6 at 2 p.m. They have proudly flown the Rainbow Flag for many years, and will now switch it for the Progress Rainbow Pride Flag.
---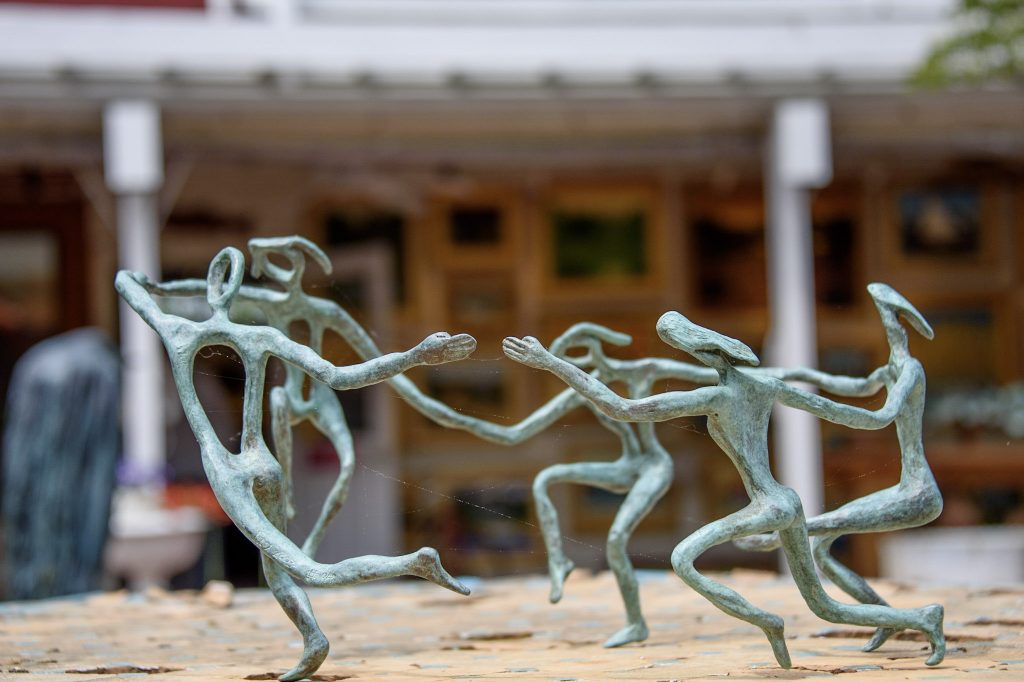 Oh, hi!
It's been a weird and introspective year, hasn't it? Luckily, there are people out there who thrive on weirdness and introspection, and we call some of those people artists.
For those of us who eagerly anticipate each summer to see what the off-season has inspired in our artsy friends, now is an especially exciting time as galleries open their doors and Island and visiting artists are asked to share their interpretations of a year that has been all of the things, all of the time.
Some shows and folks I'm hoping to check out:
Knowhere Art Gallery
 in Oak Bluffs is proud to present 
Collide & Scope
, a group exhibition launching the opening of their third season featuring painting, installation, sculpture and mixed media work from seven BIPOC artists. A percentage of proceeds will fund Grown in Haiti's community center and artist residency in Jacmel, Haiti. Up through June 27.
The Workshop Gallery
 in Vineyard Haven opens the season with 
Kristin Texeira'
s "The Trace of the Sun." Come visit and view "answers in the form of paintings" to the question "What does time look like?" Closing reception on Friday, June 4, 4 to 7 p.m.
While you're in the mood, stop by Featherstone to see 
Libby Ellis
' flower-inspired photography exhibit,
Cosmosis
. Or take an arty road trip up-Island to see what's new at the 
Field Gallery
 (like the stunning textile work of Island artist 
Jennifer Brown
)
 and keep hunting 'til you hit Menemsha, where Nettie Kent's jewelry and Colin Ruel's paintings are tucked in just before the harbor, at the 
Ruel Gallery
.
Happy weekend! (And thanks, artists, for making hard things beautiful.)
Alex
Photos by Jeanna Shepard.