Now Starring Spring: Island Time, April 22
April 22, 2021
This week, it feels a bit like waking up in Oz here on the Island, with enough green around to make you feel like you've traveled in place. We'll take it.
Here are a few things to sign up for this week, and as always, check out
The Complete Martha's Vineyard Calendar
for all events. And by the way, our Oyster columnist is on baby watch and will return in a few weeks!
A new show at the Louisa Gould Gallery in Vineyard Haven features the work of six artists in various mediums celebrating the body and face through art. View
"Figures: Flow and Form"
from 11 a.m. to 4 p.m. daily.
Learn about planting peas and potatoes
at a class co-sponsored by Slough Farm and the FARM Institute, the first in a series called Waking up the Garden. The classes take place in the Friendship Garden at the FARM Institute, 10:30 a.m. to noon. Pre-registration required.
Or take advantage of the Land Bank's goat
Manure Giveaway
from 9 a.m. to 4 p.m. and start a compost pile for your future garden.
Here's an opportunity to learn to draw from a great teacher:
Artist Elizabeth Whelan
is leading
a series of Zoom drawing classes
from now through September. The second class (Basic Principles of Drawing and Composition) happens this Wednesday at 11 a.m. The free series is sponsored by the Vineyard Haven Public Library.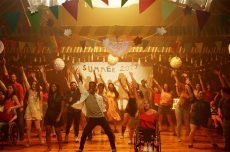 The
groundbreaking feel-good musical film
Best Summer Ever
, starring a cast of actors with disabilities, debuted on the Vineyard last October and will be released on streaming platforms on Tuesday. The exhilarating film combines a Glee-style high school musical — complete with football drama, social peril and spontaneous dancing — and the sheer jubilation of a Camp Jabberwocky summer show.
Edgartown's
Pink and Green Weekend
returns this year with plenty of outdoor activities from the pet show, to a 5K, to a bikes and trikes parade.
 Featured photo by Ray Ewing.