Island Time, Dec. 24-30: Up on the Rooftop
December 24, 2020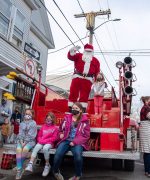 Welcome to Christmas weekend on Martha's Vineyard, a time to be merry and bright. After all, nothing's stopping Santa! Mask up and head out for some last-minute shopping, then charge up your devices for virtual and outdoor Christmas church services, radio drama and a Minnesingers concert. The Complete Martha's Vineyard Calendar has all the services, events and activities taking place this week, while our What's Open, What's Closed feature is where you'll find Island restaurants ready to cook for you. Merry Christmas!
Award-winning Island chef, caterer and nutrition buff Jan Buhrman is teaching
a virtual five-week series of soup classes
starting Monday, December 28. Registration is required. All class participants will receive the recipes and a Zoom invite ahead of each class, and sessions will be recorded for viewing later as well.
This year, everyone can enjoy the regional high school theatre department's season opener, as well as a capsule concert by the school's elite Minnesingers choir.
It's a Wonderful Life: A Live Radio Play
airs Friday at 6 p.m. and Sunday at 11 p.m., with the Minnesingers opening, on WMVY, 88.7 FM.
On Saturday from 10:30 a.m. to 11:30 a.m., Misty Meadows Equine Center hosts
a drive-around scavenger hunt
— a holiday quest of six spots all over the Island with prizes and a chance to meet a Misty horse at the end. Covid safety protocols will be in place.
What's Open, What's Closed on Martha's Vineyard
The Complete Martha's Vineyard Calendar
Sign up for Island Time or one of our other newsletters
Photos: Top, Tim Johnson; right, Jeanna Shepard