Island Time, July 23 – 29: Vineyard Dreams
July 23, 2020
The week ahead brings opportunities to bid on one-of-a-kind Martha's Vineyard experiences, to hear live music, and to take a custom guided wildlife tour — on land or over water. Of course you can always grab a carry-out meal and bask at the beach or sit by the waterfront and watch the boating world go by. The Complete Martha's Vineyard Calendarlists your day-by-day event options; here are five to consider in the days to come:
Explore the smooth waters of
Cape Pogue Wildlife Refuge by kayak
on a guided tour with a natural history guide this Friday or Saturday morning, 9:30 am. to 11:30 a.m. Family-friendly and kids over 5 are welcome. Advance ticket purchase is required.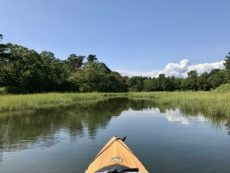 Wild Bunch
Felix Neck Wildlife Sanctuary in Edgartown will pair you and your quaran-team of up to nine people with a personal naturalist for
a guided exploration
tailored to your interests, from dissecting owl pellets and story time visits with live critters to simple contemplation. Adventures are available by arrangement between 9 a.m. and 3 p.m
Martha's Vineyard filmmakers Kate Davis and David Heilbroner's
new documentary Born into the Gig
, which spotlights musicians including Island siblings Sally Taylor and Ben Taylor, screens Saturday as part of the virtual Woods Hole Film Festival.
The directors
will also take part in a virtual Q&A.
Cousen Rose Gallery in Oak Bluffs
hosts an in-person Meet the Artist event with Magi Leland, an accomplished painter of landscapes and sea views, Saturday from 6 p.m. to 8 p.m. Island pianist Adele Dreyer will perform.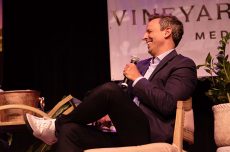 Every summer, dreams come true at
the Possible Dreams auction
. This year promises to be full of new surprises, as television star Seth Meyers hosts a live stream of the Island's biggest charity event.
Benefiting Martha's Vineyard Community Services, the auction—famous for its celebrity appearances —
takes place online
Sunday from 5 p.m. to 7:30p.m.
Featured photo by Jeanna Shepard.