June 28: Welcome Back to the Vineyard
June 28, 2018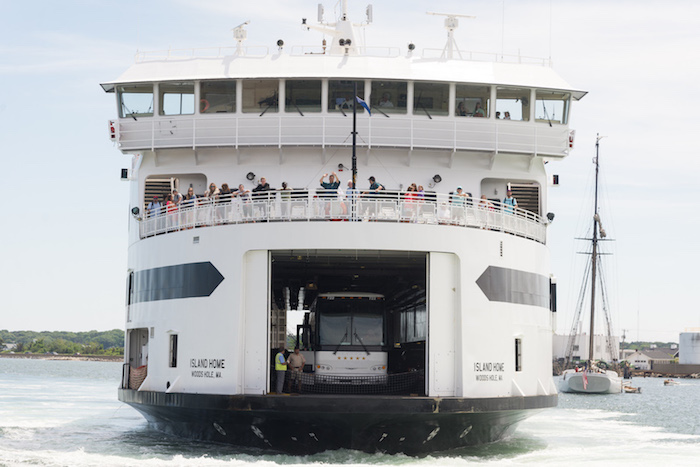 We drive people to the boat. We pick people up at the boat. We wait with cheers and signs when champions return to the island. We sometimes dress up in costumes when our favorite campers are coming back for the summer. We get choked up when our children and grandchildren arrive, waving from the deck of the Island Homelike there's nothing more exciting in the world than to be seeing us, to be arriving here. We say goodbye to friends who leave our little world, lugging their wheel-y suitcases up the ramp. Every human emotion under the sun lands and departs with each ferry run.
But today we're happy, because you're here. If you've been away from the Island for a while—say maybe an entire winter—we're glad to see you again.
Welcome Back.
Friday, June 29 | Tour Guide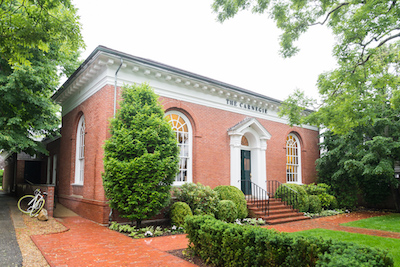 If you want to see the Island with fresh eyes, or you've got friends in town, plan to take one of a half-dozen or so tours planned on the Island today. An architectural walking tour leaves the Carnegie, the Vineyard Trust's new historic center in Edgartown, at 10:30 a.m. and an Edgartown Harbor Tour leaves the Carnegie at 12:30 p.m. You can travel to Chappy for a Mytoi Discovery at 10 a.m. or an Osprey Odyssey at 11 a.m. Or stay on the big island and head out to Katama for a walking tour of the FARM Institute at 10 a.m. Over at Felix Neck, you can tour Sengekontacket Pond at your pace on a Kayak Quest (9 a.m.) or go on a Seashore Discovery at 10 a.m. Up-Island, Grey Barn and Farm holds its Cheese Tasting & Experience at 1:30 p.m. today.
After these adventures, we think we'll wind down with a movie. It could be a classic: Jaws at 2:30 p.m. Or it could be (for those of us of a certain age) Won't You Be My Neighbor? (5:30 p.m.), the story of TV icon Fred Rogers by Academy Award-winning director Morgan Neville. Both are at the Capawock today.
Plenty of live music starting at 10 p.m. tonight, but we might just catch the Vineyard Sound in Edgartown at 8 p.m. and call it a day.
Saturday, June 30 | Dancing in the Streets
We'll pick up Chilmark coffee and some croissants at North Tisbury Farm & Market this morning on our way to the Chilmark Flea and the West Tisbury Farmers' Market. If there's time, we're goint to stop into Middletown Nursery for a talk on lavender at 11 a.m.
This evening we're looking forward to the opening reception of new photographs at A Gallery at 5 p.m. The talented lineup of photographers includes Edward Grazda (Mean Streets, NYC), Christoper Wright and Amy Upton. Then some of us will follow our art hearts to the Vineyard Arts Project tonight at 7 p.m., where New York City Ballet dancer Ashley Bouder works on five pieces for upcoming July performances at NYC's Joyce Theater.
The rest of us are dressing up for The Martha's Vineyard Museum's 20th Annual Evening of Discovery, starting at 5:30 p.m. at the Marine Hospital.
Sunday, July 1 | Opening Day
Wait, stop, it's July already! Who knew that was coming? Well, this morning's speaker at Union Chapel will at least wake us up and get us paying attention: It's MSNBC's Lawrence O'Donnell. (10 a.m.) There's also a guided tour of Polly Hill Arboretum at 10 a.m. If you went in that direction, you could pop into the Vineyard Artisans Summer Festival at the Grange Hall (10 a.m. to 2 p.m.) afterwards.
Tonight, you've got five gallery openings to choose from, including the Field Gallerywith paintings by Colin Ruel, photographs by Jhenn Watts, and new works by Island jeweler Kenneth Pillsworth. The Davis Gallery, home to Allen Whiting's work, also opens today at 5:00 p.m.
Tonight the Vineyard Haven Town Band plays in Owen Park from 8:00 p.m to 9:00 p.m.
Photos top and middle: Ray Ewing; photo below, left: Jeanna Shepard.
ISLAND TIME is a free events newsletter brought to you by the Vineyard Gazette. To receive the email every Monday and Thursday each week, subscribe here.
events
Island Time