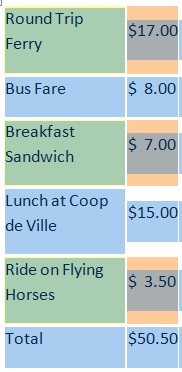 Short on time and money?  A 1-day, $50-ish vacation to Martha's Vineyard may be just what you need!  To create a level playing field, we'll start the day in Woods Hole in time for the 10:45 am ferry. To board the boat you'll have to part with $17 for a round trip ticket. Though that's close to a third of your budget, it does buy you what amounts to a 45-minute sea cruise in addition to getting you back and forth to the Island.  Head to the top deck of the Steamship Authority Ferry, slather on sunscreen and zone out to the sound of sea gulls and the ferry's bow slicing through the waters of Vineyard Sound. Debark in Vineyard Haven at 11:30 am, where you can purchase an $8 day pass to the VTA bus entitling you to a full day of unlimited travel, Island-wide. (Bike riders can pay $8 round trip to bring their bikes over on the ferry.)
Getting Started

First stop is the MV Chamber of Commerce (closed weekends but a kiosk adjacent to the ferry terminal is open), to pick up some free Island info. Then, head 1 short block over to Main Street for a little window shopping and a Waterside Market breakfast sandwich. Conveniently served until 4 pm, the fried egg, cheddar and choice of meat or avocado on an English muffin is a $7 hedge against needing to eat an early lunch.
Sightseeing & Sun Seeking

Armed with your VTA map, the Island is yours to explore.  Essentially you have three basic options: Spend the day seeing the whole 100 square mile Island from westernmost Aquinnah to easternmost Edgartown using the schedule gaps to do some exploring; head over to the easy-to-access beaches on the Island's north shore or slightly more remote south shore fronting on the Atlantic or do a little of both.  If the day is sunny and hot (read: beach day!) but but you don't want to forego sightseeing entirely you can take the bus directly to Edgartown for a quick look around, doubling back to Oak Bluffs' beaches for some serious R&R and a swim.
Historic Homes & Harbor

To get to Edgartown, board the #13 bus which passes through Oak Bluffs and skirts the Sound most of the way.  (The #1 takes a slightly shorter, but less scenic, route to the same destination). After a look at the 19th century sea captain's homes, the art galleries and the harbor of this historic whaling port, stop in at the Vineyard Gazette and ask for a short tour of this former almshouse and home of the Island's oldest newspaper. Publishing schedule permitting, this request is usually cordially granted. You can also pick up a free Welcome Guide for a detailed downtown walking tour and directions to the cemetery where graves date back to the 18th century.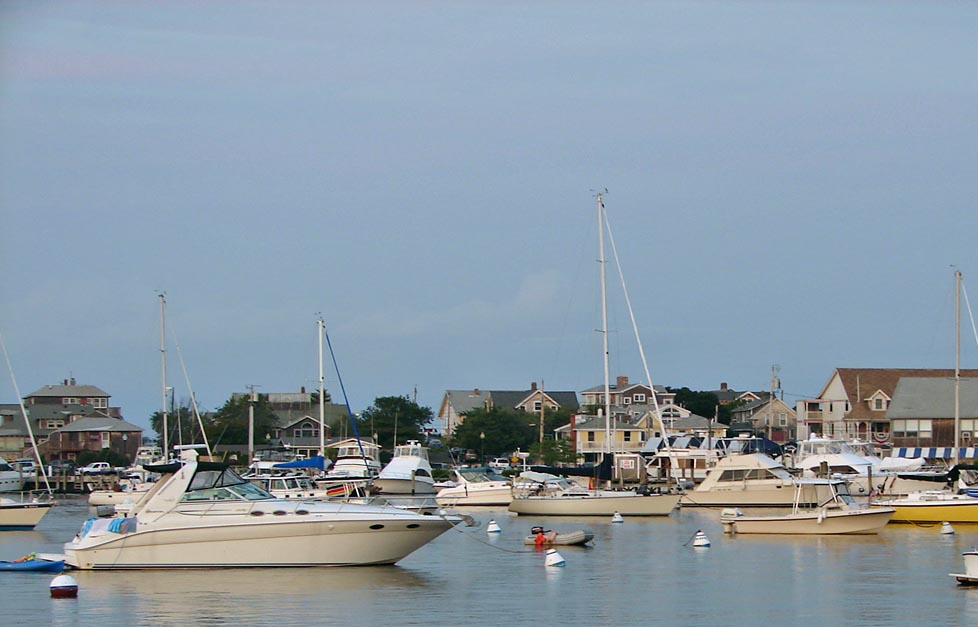 A Day at the Beach

Craving sun and sand? Hop back on the #13, and enjoy the beautiful stretch of coastline. you'll be getting off shortly after as Ocean Park in Oak Bluffs comes into view. With the water looking clear and inviting you'll want to waste no time finding yourself a spot to spread your blanket. Since the Oak Bluffs beach abuts the downtown, when you start feeling hungry you'll find yourself just steps away from lots of beach-side eating options. Followed the scent of freshly fried seafood to Coop de Ville where you're welcome to hang out dockside catching the breeze and watching the boats come and go while feasting on a generous plate of fish and chips ($14.99). If you've planned your trip for a Monday or Tuesday, the deals are even sweeter: Mondays, a Lobster Roll and Fries are specially priced at $15 but Tuesdays offer the best bargain of all: Steamed Lobster with Corn on the Cob for just $14.99 – still bringing your total for the day within shouting distance of $50. For those with smaller appetites there are lots of options for $10 and under.
Budget Breakdown
Since you're already in Oak Bluffs, take  the long way back to the bus stop, enjoying a ride on the historic Flying Horses Carousel for $3.50 and a stroll among the gingerbread cottages and shops in downtown OB.  Instead of returning to Vineyard Haven, catch the 6:15 ferry departing from the Oak Bluffs ferry terminal, which will get you back to the Woods Hole at 7 pm. Sun setting over Vineyard Sound: Free. Total vacation time: 8 hours, 15 minutes. Total spent:  $50.50.
A Penny Saved…
Before leaving  home check the
Vineyard Gazette's Calendar for free events  that you might be interested in attending.
Bring your own bottled water to save spending $$$ just to keep yourself hydrated.
Though there are designated bus stops, you can flag down and re-board a VTA bus just about anywhere except for downtown areas.  When in doubt, consult the driver.
Bikes can be carried on buses free of charge on a space available basis. Click here to view a map of MV's bike trails.
If you decide you want to stay an extra day check the Chamber of Commerce website www.mvy.com for hotels with last minute availability