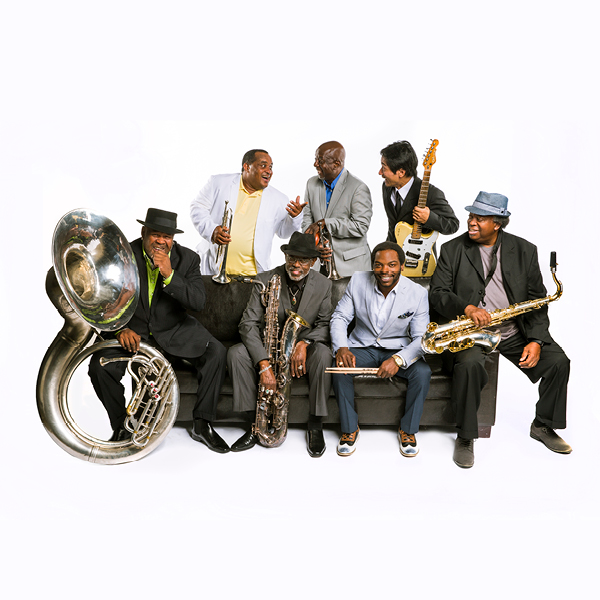 Martha's Vineyard Concert Series continues as The Dirty Dozen Brass Band brings its exciting musical mix of R&B blended with the instrumentation of a New Orleans to the Old Whaling Church in Edgartown on Monday, August 21!
Featuring Gregory Davis and Efrem Towns on trumpet, Roger Lewis on baritone sax, Kevin Harris on tenor sax, Kirk Joseph on sousaphone, Julian Addison on drums, and Takeshi Shimmura on guitar, the group revitalized the brass band tradition, opening up the repertoire and inspiring some younger groups to imitate its boldness. Generally featuring five horns (two trumpets, one trombone, and two saxes) along with the sousaphone, a snare drummer, and a bass drummer, DDBB are innovative in their own way, making fine recordings for Rounder, Columbia, and the George Wein Collection (the latter released through Concord).
DDBB been embraced enthusiastically by the jam-band followers at Bonnaroo as well as by the devotees who flock to the yearly New Orleans Jazz Fest. Acts like the Black Crowes and Widespread Panic have taken them on tour and artists from Dizzy Gillespie to Elvis Costello to Norah Jones have joined them in the studio. In the wake of Hurricane Katrina, DDBB participated in the From the Big Apple to the Big Easy benefit at New York City's Madison Square Garden and offered its own response to the aftermath of the disaster with an acclaimed 2006 song-by-song remake of Marvin Gaye's What's Going On. Their music has been featured on the HBO series, Treme, named after the New Orleans mid-city neighborhood where the band had formed, and the group performed on screen with Galactic and rapper Juvenile in Season 2. New Orleans remains a wellspring of musical inspiration and DDBB is a living, breathing embodiment of the continued vitality and evolution of the sounds of the city.
Buy your tickets for this exciting show on August 21!
The Martha's Vineyard Concert Series will be providing entertainment on the Island all summer long, concluding with a performance by Black Violin on August 23. Visit mvconcertseries.com for more information and to purchase tickets.